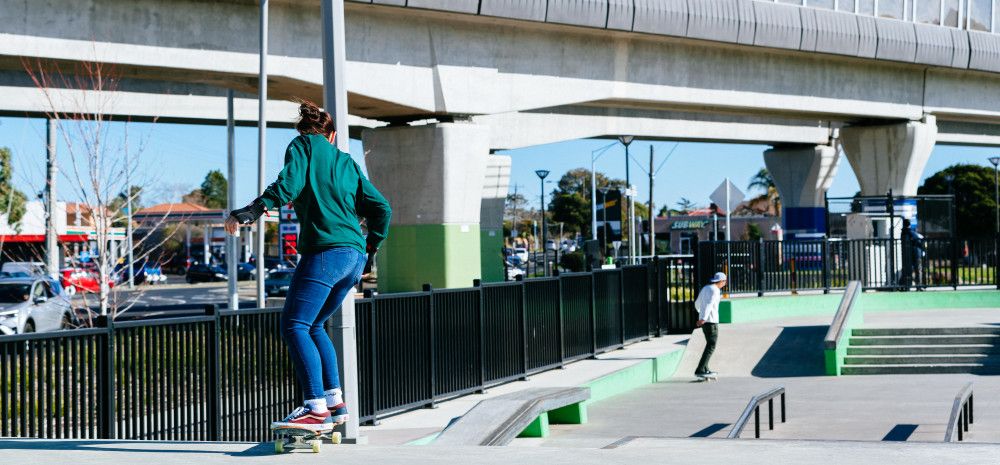 Greater Dandenong City Council is encouraging residents to make their move and enjoy the facilities at Noble Park's Ross Reserve by exploring a range of free activities.
Join the City in the Park soccer clinics throughout the first week of the school holidays. Run in conjunction with Melbourne City Football Club, the workshops are free and will be held on Monday 11 April and Wednesday 13 April at Ross Reserve.
Sunil Menon, Head of Community, Melbourne City Football Club said: "We're excited to run football clinics during the school holidays with the City of Greater Dandenong.
"The club has seen the passion for the game in this region and it's exciting to be out meeting the local community and creating connections through a love of the game."
Find out more and register here.
Join a Skateboarding Masterclass, run in conjunction with Shredability, at the world class Noble Park Skate Park. Held every week from 21 April-12 May.
Beginner classes will run from 11am-12pm in the first week and change to 4.30pm-5.30pm for the rest of the program. Bring your own skateboard and helmet, or skateboards will be provided for those who don't have one. Sessions for people who can skateboard and have some experience at a skate park will run from 12.10pm-1.10pm in the first week and change to 5.40pm-6.40pm for the remainder of the program.
Find more information and register here.
A six-week yoga program will run in conjunction with the YMCA at the Noble Park Community Centre. The twice weekly Keep Calm and Yoga sessions will be held on Tuesdays and Thursdays starting 26 April at 6pm, at the Noble Park Community Centre. Participants will receive a start-up kit which includes a yoga mat, sweat towel and drink bottle.
Find out more and register here.
The free sessions are funded by the Victorian Government through the Noble Park Revitalisation Board which aims to create a safe, vibrant and accessible community, which is set up to support future generations.
Mayor, Cr Jim Memeti thanked the Victorian Government for their investment in Noble Park to improve residents' liveability and to bring people together in enhanced open spaces.
"Revitalisation investment in Noble Park, a key activity centre for the City of Greater Dandenong, enables us to work in partnership to improve our recreational and sporting facilities and activities to enhance the health and wellbeing of our community," said the Mayor.
Chair of the Noble Park Revitalisation Board, Mr Lee Tarlamis MP said Noble Park's Revitalisation Board provides a local voice to the community, working with local communities to identify opportunities to make Noble Park thrive.
"These free sessions will enable community members of all skill levels to get involved and get active," said Mr Tarlamis MP.