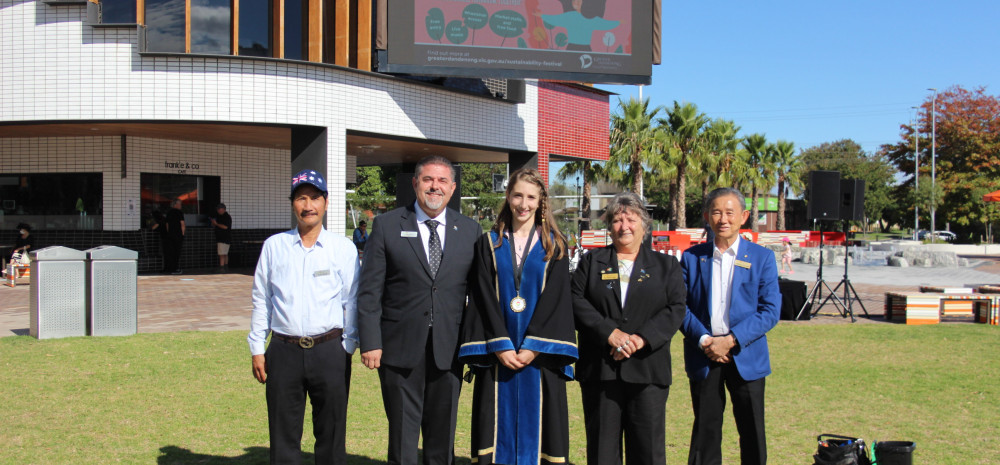 I'm Mya Durakovic and I'm the Junior Mayor for 2022.
I'm 11 years old, in grade 6, I'm one of the school captains at Keysborough Gardens Primary School, and I love school. I have a younger sister called Gemma, Mum, Dad and a dog called Teddy.
Being Junior Mayor means I'm the voice of my generation. I will have meetings with fellow students from the Children's Advisory Group and will try my best to fix any problems or concerns they might have. I realise that this is a big opportunity, but I will give it my all and try my best in everything I do.
I was lucky enough to attend the Sustainability Festival in Springvale, where I read out a speech I had written. Sustainability means to care and look after your planet by recycling, using less power and technology, active traveling such as walking, bike riding, scootering to school and work if you can, and much more.
Being sustainable is very important for us because it helps keep our environment healthy and beautiful. It also helps us keep ourselves and other living things alive and safe.
If we aren't sustainable, our gardens won't grow, and we won't be able to have fresh produce every day.
Some ideas of how to stay sustainable in your own household are by using solar panels, turning the lights and power points off when you're not using them, not wasting water, throwing all your food scraps into your compost bin, maybe even growing your own veggie garden or community garden and use the mulch from your compost bin to help your garden grow.
I can't wait to see what else I will do as the Junior Mayor of 2022. If you have any questions or see me out and about, don't be afraid to come and say hi.