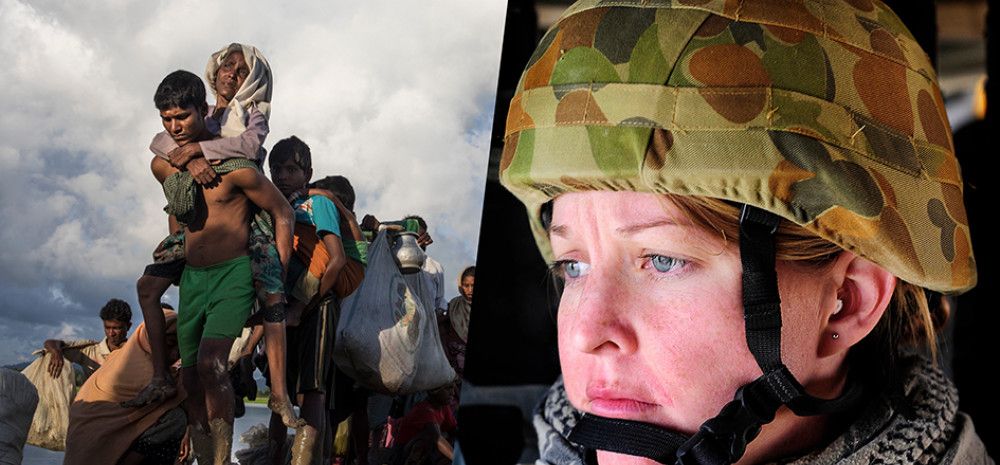 Changed Forever is a touring exhibition from the Shrine of Remembrance. The exhibition tells incredible stories of human endurance. Poignant personal narratives of loss and reconciliation, triumphs of humanity that will enthral and inspire.
Through individual accounts of conflict, dislocation and resettlement the exhibition is based on a collection of oral histories undertaken by the Shrine, with Australian Defence Force (ADF) veterans of recent conflicts and peacekeeping, and migrants to Australia who have come here because of conflict. The vulnerability of the storytellers in the face of the worst of humanity, is seen alongside their resilience and determination to survive.
Their stories are about loss and reconciliation. Loss of lives, of identity, of loved ones, of community and for some, a loss of moral certainty. They explore reconciliation between the men and women of the ADF and the civilian community, and between veterans and their sometimes estranged families and friends. For migrants, reconciliation between a past they can never retrieve and new communities, and the challenges and rewards that they offer.
Stories will be told using paintings, sculpture, music, multimedia, poetry and photographs all showing the extent of the influence of global and civil conflict on our society today.
Image: reproduced courtesy of Getty Images, Paula Bronstein.
Please note: this exhibition contains artworks and stories that explore themes including war, conflict and violence which some visitors may find distressing.
Exhibition Dates
Thursday 4 February - Friday 12 March
Bookings
To ensure we remain COVIDSafe, we can offer private viewings outside of our opening hours for larger groups. Please email us for more information.
Location
This program will be delivered in person at the location listed below.
Participants will require the following
Contact details (Name, email address, contact number) to check-in on the day
Smartphone/smart device to scan QR Code (If you do not, there will be staff to check you in)
Face mask
All COVIDSafe guidelines will be fully met to ensure public safety for this event. All attendees will be checked in via QR code.

Walker Street Gallery and Arts Centre COVIDSafe Plan - 250KB

Free event. Bookings required for large groups.
In person event at Venue
Add to Calendar Disabled