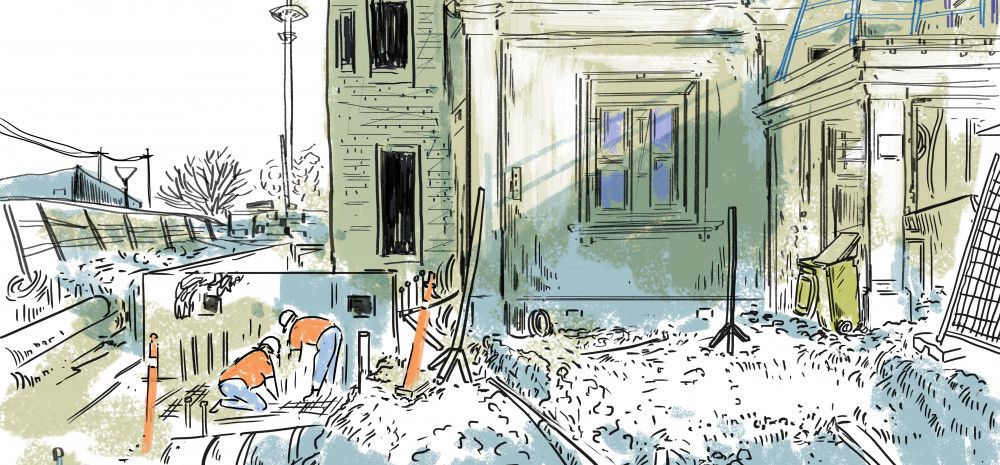 An exploration of the past, present and future of exhibitions in the City of Greater Dandenong, this show reflects on the role visual art has played in the community.

Step back in time with an installation of posters illustrating some of the many wonderful shows and programs held at Walker Street Gallery and Arts Centre over the years.

Visitors are invited to contribute to the exhibition by sharing their own thoughts on the walls of the gallery. Artist Kenny Pittock will use these responses as inspiration to create a new work to be featured in the opening exhibition of Dandenong's upcoming contemporary art gallery. Local artist Hung Lin has created a series of works documenting this new space's construction over the past year.

Come immerse yourself in the art of the past, present and future.
Exhibition Dates
Tuesday 9 November - Friday 28 January

Closed during holiday season:
Friday 24 December 2021 - Friday 7 January 2022
Bookings
No bookings are required, however if you are a large group we offer private viewings outside of our opening hours. For more information, please email us arts@cgd.vic.gov.au.
Location
This program will be delivered in person at the location listed below.
Participants will require the following
Contact details (Name, email address, contact number) to check-in on the day
Smartphone/smart device to scan QR Code (If you do not, there will be staff to check you in)
Proof of vaccination (COVID-19 digital certificate) or a medical exemption will be required upon entry. Find out how you can get your COVID-19 digital certificate.
Face masks must be carried and worn if social distancing cannot be maintained
To meet COVIDSafe requirements, please be aware some programs and events may be moved online or cancelled.
All COVIDSafe guidelines will be fully met to ensure public safety for this event. All attendees must be checked in via QR code.
Free event. No registrations required.
In person event at Venue.
Date Description
Tuesday 9 November - Friday 28 January
Tuesday to Friday, 12pm-4pm

Closed for holiday season:
Friday 24 December 2021 - Friday 7 January 2022
Event Date and Time
weekly on Tuesday, Wednesday, Thursday and Friday, starting from Tuesday 9 November, 12:00pm
Add to Calendar Disabled