Exhibition dates: Tuesday 5 April - Friday 17 June
Celebrating the local community through portraiture, Seen captures the faces and people of the City of Greater Dandenong. Join us to celebrate, through art, the people that make Greater Dandenong the vibrant place it is.
Judged by an esteemed panel of industry professionals, prizes were awarded in the categories of Open, Secondary School and Primary School.
Visitors are encouraged to vote for the People's Choice award to go in the running to win a double pass to a show of your choice at the Drum Theatre here in Dandenong.
Judges
Esther Gyorki, Curator.

Alojz Babic, Curator.

Zia Atahi was born in Ghazni, Afghanistan and came to Australia in 2005.

Zia is an independent documentary photographer and also an abstract painter based in Melbourne. In his photography practice, his focus is around telling people's stories from different cultures, tribes and refugee backgrounds, and capturing their inspiring stories. Zia is interested in telling stories of people, about their journey and those striving to improve their life circumstances in their respective societies.

Zia also works with acrylic, oil, wood, ceramic and metal as a medium and plays around in his imagination with colours that remind him of mother nature, layers of earth, the waves, rivers, the erosion, and the changes in mother nature.
Watch below to learn more about the 'Stories behind Seen'.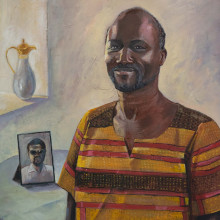 Open category

Winner of the $4000 cash prize - Gabriel Hingley, Gora, Acrylic on canvas, 2022.
'Gora Odiel is a good friend of mine and a highly respected elder and leader amongst the Anuyak people of South Sudan. Gora's father was an important leader of his tribe who was tragically killed in conflict in 1996. His photo portrait sits on the table in my painting. Gora has continued his father's noble legacy of peace-keeping, working to bring different tribes together in harmony, both in South Sudan and here in Dandenong. Although the scars of the past remain, as symbolised by the rough texture of the underpainting, Gora almost always has a smile on his face when I meet him. I wanted to capture this generous smile, as well as his dignified presence. In sitting for the portrait Gora chose to wear a brightly patterned shirt in the African tradition. The gold-rimmed coffee pot and cup symbolises the warm hospitality one always receives in a South Sudanese family home, especially at Gora's house. I am privileged to know someone like Gora and I believe his life is an inspiration to many people, whether African or Aussie, to seek reconciliation and peace in our communities.'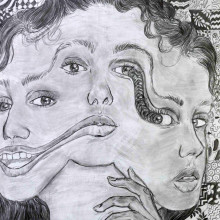 Secondary category

Art materials pack for both the winner and their school (valued at up to $1000),
Experience of live theatre - Drum Theatre gift voucher: 2 x full + 2 x U30 tickets (value up to $108)
Winner - Tarika Wimalasuriya, Personality of Three, Pencil on paper.
'The subject is the artist herself, Tarika Wimalasuriya, a secondary school student who studies in Keysborough. The choice to capture the artist was made deliberately with the intention of being vulnerable on the paper. The subject while going through the trials of adolescence has witnessed and participated in transforming her personality and person to conform to different groups. This has led to some dysmorphia, as the subject blurs the line between her actual personality and the facades she displays with certain people. The piece aims to encapsulate the chaos and confusion in one's own self that the subject faced, which was derived from demonstrating an act to others than the reality of her personality.'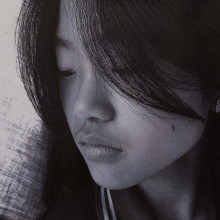 Primary category

Art materials pack for both the winner and their school (valued at up to $1000)
Experience of live theatre - Drum gift voucher: family pass (2 x adult + 2 x child) to Drum Show (July or September school holidays) (value up to $84)
Winner - Fiona Zhou and Areyana Singh, Fiona, Photograph
'I like working with photography. I found it interesting to put the elements of light and shade into the artwork.'
Come visit Walker Street Gallery and Arts Centre and leave captivated by all the wonderful portraits and stories behind each piece.

Vote in the People's Choice Award for your chance to win a double pass to a show of your choice at the Drum Theatre here in Dandenong.
For all upcoming events, see below.