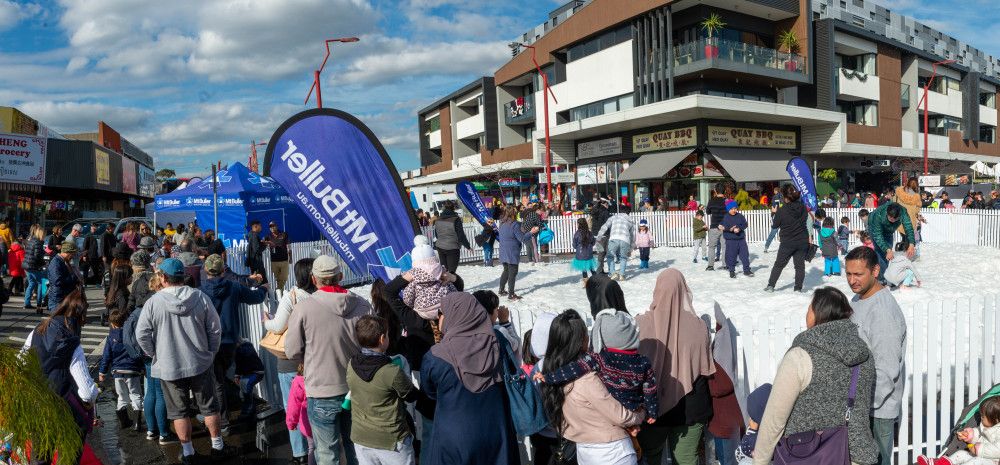 Snow will be falling again in Springvale this July. We are excited to be bringing Springvale Snow Fest back after a two-year break.
If you can't wait for the snow to hit Springvale, join us for a special screening of 'Ice Age' (G) at Springvale Community Hub on Friday 8 July at 12pm.
Springvale Snow Fest 2022 Presents 'Ice Age'
Springvale Snow Fest 2022 will include;
Two free snow play areas with real snow from Mt. Buller
Food and market stalls
Arts and craft activities
Airbrush tattoos
Face painting
Live ice sculpting
Live music and performances
Roving performances
Rides ($2-$6)
Fireworks at 6.50pm
Getting here
For the best experience at Springvale Snow Fest, planning how to get here is important.
This event is located in the Springvale Shopping Precinct on Buckingham Avenue, running from Windsor Avenue to Queens Avenue.
The best way to get to the event is by public transport; Springvale Station is just five minutes on foot. If you're coming from the city, it's only 30 minutes on the train from Flinders Street on the Pakenham/Cranbourne Line.
If you prefer taking the bus, the following bus routes will take you to Springvale Station: 705, 811, 813, 814, 885 and 902.
If you're driving, parking is very limited so consider parking a little bit further away and warming up with a short walk.
Note: there may be changed traffic conditions on Springvale Road, between Balmoral and Windsor Avenue as a part of the Springvale Boulevard Project from 6.30pm – 5.30am.
Toilets, baby changing and quiet space
Toilets and baby changing areas will be available at the event site. There will be a Quiet Space tent that is a designated area where people can retreat to when feeling overstimulated. This room can also be used as a safe space for meditation and prayer.
ATMs
Springvale Snow Fest 2022 sponsor, Bank of Melbourne, will be providing an fee free ATM. Many stalls will also have cashless card payment set up.
Share
Make sure to let others know about this great event in Springvale. Like our Facebook event page to get updates about the event. Share the event with your friends.
Location
Buckingham Avenue, Springvale
Cost of Event (if any)
Free event