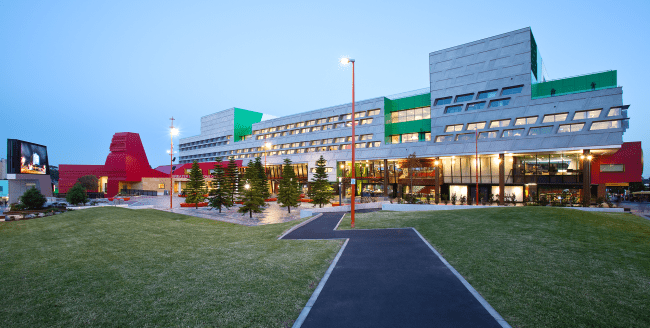 What makes you feel safe?
Greater Dandenong City Council is seeking expressions of interest for an exciting new public art exhibition, Safer Directions, to be displayed at Walker Street Carpark.
Artists will be invited to explore the theme of safety, with six finalists chosen to have their work displayed. Each finalist will receive a $250 pre-paid Visa card.
Walker Street Carpark services local traders, restaurants, and businesses, and is the first point of contact for many commuters when travelling in to visit the city.
Council hopes the exhibition will redefine the current space and improve perceptions of safety by engaging visitors through the arts.
Safer Directions is funded by the Victorian Government's Community Safety Infrastructure Grant Program.
Artistic Scope
In response to the grant, it is requested that the submitted designs respond to the theme of safety, in whichever way artists wish to interpret this. This could include a visual narrative that communicates:
What makes you feel safe?
What makes a safer community?
How do we create safer spaces?
What is a safe space to you?
In addition, submitted work must adhere to the following conditions:
No work provided for display may be of a form that could be reasonably perceived as being either offensive, obscene, or negatively inciteful. The work must be original and created by you, the artist/s.
Artwork is to be submitted digitally, with images at least 300dpi and be well exposed. Artists are asked to submit up to three artworks in a medium of their choosing, including but not limited to:
-illustration
-photograph
-painting
-collage
Images will be printed on a decal which will be affixed to the interior walls of Walker Street carpark. Successful entries will be printed in a variety of different sizes (A0, A1, A3, A4, A5) to create the exhibition.
Limit of up to three entries per person.
Artist responding to this EOI opportunity are asked to supply the following for each submission:
Artwork Title
Location
Year
Materials
Description/Project Name/Conceptual Statement
Location
Works will be installed within the Walker Street Carpark across multiple levels with the potential to do the same at Boyd Lane. Artwork will be installed on the interior walls of the carpark for a period of up to 12 months.
Selection Process
The expression of interest is open to all people who live, work, study or visit Greater Dandenong. Council is proud of its diverse community and encourages Aboriginal and Torres Strait Islander people, youth, seniors, women, LGBTIQA+ members, linguistically and culturally diverse communities and people with a disability to apply and share their notions and experiences of community safety.
This opportunity is open to people aged 5 years and over. Finalists who are under 18 will need parent/guardian consent.
Submissions will be judged by a panel of arts industry professionals; Greater Dandenong Arts and Culture Team, Greater Dandenong Arts Advisory Board, Public Art Working Group and Bunurong Land Council.
Need more information?
Questions about this brief are welcome. Please contact Dona Macik 8571 5354, Dona.macik@cgd.vic.gov.au or Marek Krol 8571 5427, Marek.krol@cgd.vic.gov.au
This consultation has now closed.