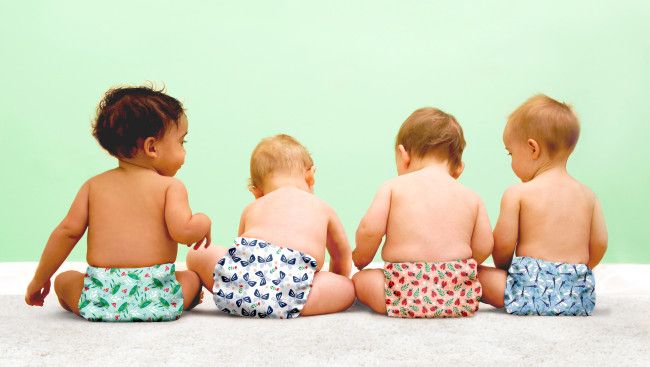 Have you used reusable nappies in the past five years?
Maybe you've tried then but stopped, or you're just curious to find out more?
Are disposable nappies your thing?
If you answered yes to any of these questions, then Council would like to hear from you.
Approximately two billion disposable nappies end up in landfill each year in Australia and it can take up to 500 years for nappies to break down. One of Council's key Waste and Litter Strategy objectives is to reduce waste from landfill and to achieve better environmental outcomes. We recognise that there are many households in our community who do use disposable nappies and could be encouraged towards cloth nappies as a more environmentally sound alternative.
Greater Dandenong, in partnership with 11 other Melbourne metropolitan councils received grant funding of $80,000 from Sustainability Victoria to conduct a feasibility study on the use of nappies.
Your input will support research on a reusable nappy program that aims to reduce household waste that ends up in landfill.
With your help, we can gain valuable insights into how Council can better support residents to make environmentally-friendly choices.
If you would like to provide more information, you can also take part in an interview with the project team, contact Council's Waste Team on 8571 1000.
This project is supported by the Recycling Victoria Councils Fund, delivered by Sustainability Victoria on behalf of the Victorian Government.
Have Your Say
Council is seeking community feedback on how you decide which nappy to use for your child.
How to Have Your Say
To have your say please fill in the survey below.
Community feedback will be accepted until Monday 21 February.
Privacy collection notice
Greater Dandenong City Council (Council) is committed to protecting the personal information provided by you in accordance with the principles of the Privacy and Data Protection Act 2014 (Vic) (PDP Act). Personal information is collected by Council only for the purpose of its functions set out in the Local Government Act 2020 (Vic). Specifically, personal information is collected to contact you and improve our services. Personal information will be used solely by Council for that primary purpose or directly related purposes. If this personal information is not collected, Council will be unable to contact you. We use Zoho to collect and analyse survey data responses. The information collected in these surveys is transmitted and stored securely in Australia and is accessed by us under Zoho's Terms of Service. You can access Zoho's Terms of Service here [link]. You may decline to provide this information by not responding to this survey. If you provide a survey answer, you consent to the storage of your survey answer by Zoho and its use by us as well as Bayside City Council, Boroondara City Council, City of Greater Dandenong, City of Monash, Knox City Council, Maribyrnong City Council, Maroondah City Council, Moonee Valley City Council, Nillumbik Shire Council, Stonnington City Council and Yarra Ranges Council. You can access Zoho's Privacy Policy here [link] and each of the privacy policies of each of the previously mentioned Councils on their respective websites. In certain circumstances, we may disclose personal information where permitted or authorised under the PDP Act or other applicable law. If you would like to know more about privacy at Council, including your right to seek access to your personal information, contact Council's privacy officer on 8571 1000. Read Greater Dandenong's City Council Privacy Policy.