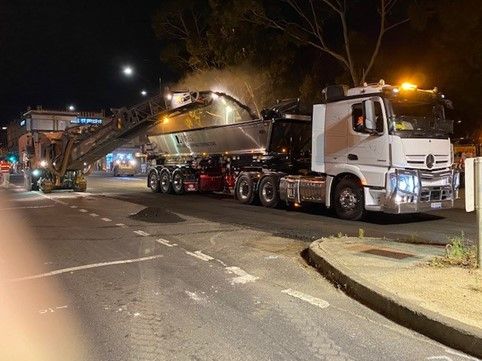 Project overview
The City of Greater Dandenong is conducting road works on Ordish Road in Dandenong South from Greens Road to Mark Anthony Drive (approximately 2.4 kilometers) as a part of Road Rehabilitation and Reconstruction Program.
Geotechnical and Engineering investigation confirmed the unsuitable pavement of the road and recommended the need for proposed rehabilitation treatment.
Project benefits
Project will address the existing poor condition and ongoing deterioration of the road and improve ride quality and enhance road safety for all road users.
Eliminates need for regular maintenance in form of patching and reduces disruptions to traffic.
Reduces ongoing maintenance cost to maintain the road.
What will the works include?
Road pavement re-construction with deep lift asphalt surfacing
Kerb and channel renewal work where required
Installation of new line marking
Clean and renewal of stormwater drainage pipes and pits
How will these works affect the community?
To keep everyone safe, there will be road closures and detours in place during these works.
Works are expected to be undertaken during the following time:
7pm and 5am on weekdays
24 hour closure during one weekend
Traffic management will be in place to safely direct road users and pedestrians and allow access to businesses/properties.
Works to be staged such that access to each business/property is suitably restored with ramps at cessation of all shifts. While properties will always be accessible during construction, some delays may occur. If you have any special access requirements, don't hesitate to get in touch with us.
Every effort is made to reduce disruptions to residents and businesses impacted by our works and provide advanced notice of any changes that may impact residents directly. However, residents should expect some noise and delays due to the nature of the works.
We thank you for your understanding while we make Ordish Road safer and better for the businesses and community.
When will construction occur?
Commencement of works is subject to Council's decision to award the contract, which will be considered at their Ordinary Meeting held on 27 March 2023.
Works are expected to commence in early May 2023.
However, timings may be impacted by a state-wide shortage of construction materials, weather, and contractor availability.
Actual commencement and duration of the works will be updated after the appointment of construction contractor.
Further information
Should you have any further questions or comments, contact Council's Project Manager Dias Samarasinghe via email dias.samarasinghe@cgd.vic.gov.au or telephone 8571 5309.