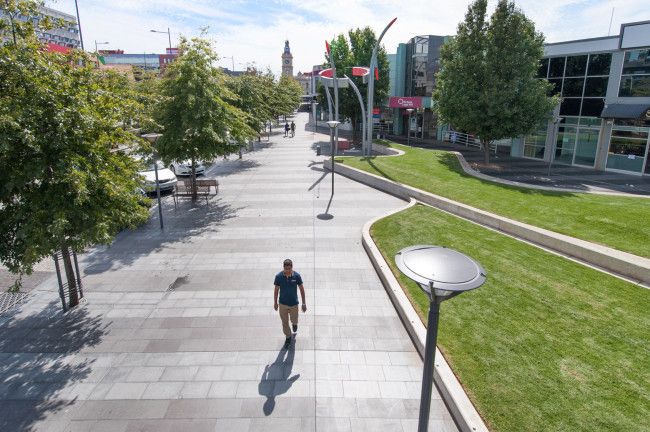 The Pultney Street Triangle is an important public space that adjoins Dandenong's high profile Lonsdale Street Boulevard and the connecting access road. The area features the illuminated artwork Reverie and was upgraded to ensure its a quality public space consistent with open spaces in the Dandenong activity centre, and fully integrated with Lonsdale Street.
The project was delivered by Evergreen Civil and was completed in June 2016 and included;
Retaining the two semi-mature trees and introducing a small integrated timber deck to protect tree roots
A raised grass area to improve the greening of the space
An expansive tapered wall that allows for continuous seating along the raised grass edge
Consistent granite paving to match the quality and finish of Lonsdale Street
Additional street lighting for safety and amenity
'Reverie' artwork remains a feature
The artwork Reverie has remained a feature of the space and sits comfortably within the space. Reverie was created by the artist Paul Johnson and is part of Councils permanent public art collection and has been a part of Lonsdale Street since 2005.
Wildflower meadows
A new wildflower meadow has been created in Pultney Street, Dandenong following the overwhelming popularity of this concept led by Greater Dandenong City Council's Parks team.
Whimsical wildflower meadows are a perfect example of how smaller initiatives can humanise cities and create unique, loved places.
The flowers are expected to bloom from the start of December 2020.