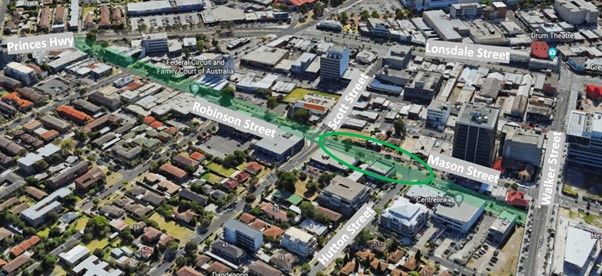 Project Overview 
The realignment of Robinson and Masons Streets is part of a longer-term aspiration for Revitalising Central Dandenong to improve the length of Robinson from Princes Highway to Walker Street.   
Robinson Street is a major north south link on the periphery of central Dandenong, providing access to the office and retail functions west of Lonsdale Street. Robinson Street is cut off at Walker Street, with vehicular and pedestrian traffic diverted onto Mason Street, near Hutton Street.
The realignment aims to improve connectivity, reduce congestion and support traffic circulation.
What was delivered?
A safer street environment to address recorded traffic accidents
New raised platforms to enhance pedestrian safety
A new bus stop repositioned to align with the realigned roadway
Additional open space with grass as a holding treatment for future landscape
Tree planting
Project Objectives
The realignment of Robinson and Masons Streets delivers a functional traffic access to central Dandenong but discourages large volumes of through traffic. It improves urban design to provide safe and pedestrian friendly public realm.
The project objectives are:
Development of a high-quality streetscape that is safe and welcoming for the public,
Ensure that the role of Robinson and Mason Streets as primary collector roads servicing the western sector of central Dandenong is emphasised,
Enable traffic access to central Dandenong, but deter large volumes of through traffic, and
Retain on street parking provision.
How is this project being funded? 
This project has been funded by the City of Greater Dandenong Council's capital improvement program to the value of $400,000. 
Download Project Bulletins
Bulletin No.4 May 2023 - 247.5KB
Bulletin No.3 April 2023 - 639.7KB
Bulletin No.2 October 2022 - 571.3KB
Bulletin No.1 August 2022 - 595KB
Who can I contact to discuss this project further?
Jenny Pemberton-Webb, Revitalisation and Placemaking | Mobile number 0414 015 906 | Email jpembe@cgd.vic.gov.au.