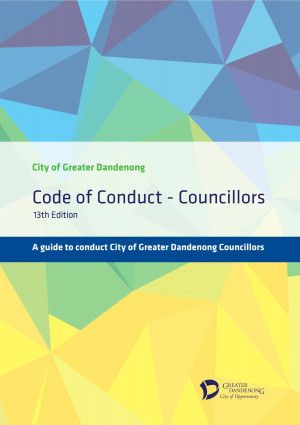 The Code of Conduct – Councillors aims to assist and guide Councillors with their responsibilities as elected representatives of the community. Council endorsed its current Councillor Code of Conduct on 13 February 2017.
This code ensures Councillor conduct is legal, ethical and appropriate at all times when conducting or performing civic duties and responsibilities. It includes the following sections:
key roles and responsibilities
use of council resources
values and behaviours
Councillor conduct and misconduct
adherence to all other relevant Council policies including, but not limited to, workplace behaviours, OHS, information privacy and the Election Period
conflict of interest procedures
dispute resolution procedures
Printed copies of this document are available for inspection at Council's Customer Service Centres and libraries. Please contact us if you require this document in an alternative format.
In accordance with the Local Government Act 1989, a copy of the Code has been provided to each Councillor.