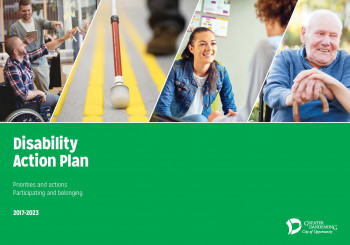 The City of Greater Dandenong is committed to working with local residents, businesses and service providers to build and strengthen our community and ensure people of all abilities are welcome and feel included. The Disability Action Plan 2017-23 guides Council's actions over the next eight years to ensure all members of our community are involved, active and engaged.
Below is a summary of the objectives.
Our Vision
The City of Greater Dandenong will be a place where all people living with a disability and their parents, families and carers are able to participate and be included.
Our Values
Everyone is important
Everyone can learn
Everyone needs support
Everyone can participate
Everyone can communicate
Everyone can contribute and be heard
Our differences make us strong
Everyone is respected and included
Health and Wellbeing
People with a disability are likely to have poorer health than the general population. Strategies to work with our local community include supporting the health and wellbeing of people with a disability by improving access to health services and health information, supporting business and services to respond to needs, and increasing the capacity of our community to advocate for change.
Education, Training and Employment
People with a disability tend to have lower levels of education than those without a disability and may also have more difficulty bridging the gap between education and employment. Strategies to improve education and employment outcomes include supporting education, training and employment opportunities for people with a disability through Council programs, business education and networking.
Physical and Natural Environment
The National Disability Discrimination Act and the Victorian Disability Act are supplemented by a range of standards and guidelines that provide details on rights and responsibilities about equal access and opportunity for people with disabilities. These form a critical part of Council planning, standards and policies.
Despite these standards being in place for many years, people with disabilities continue to report difficulty accessing many services and facilities. Strategies to address this include supporting a well maintained and accessible physical and natural environment through ongoing upgrade and maintenance programs and advocating for improved access to reliable public transport and traffic management solutions.
Community Participation
People with a disability continue to identify that the attitudes of others are one of the most significant barriers to social inclusion.
Socially inclusive communities value everyone, regardless of difference and abilities, create opportunities for everyone to feel valued and have a sense of belonging and respect for their contributions. Strategies to improve these outcomes include supporting increased community participation for people with a disability by continued consultation, accessible programs, accessible communication and increased community disability awareness.