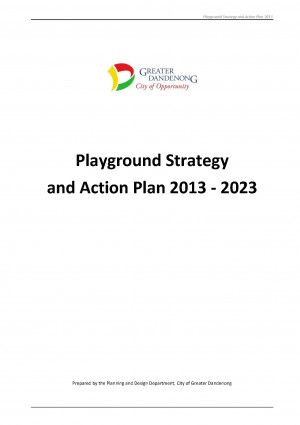 Playgrounds are an essential piece of community infrastructure, providing vital, relatively low cost and easily accessible family focused environments for people to participate in leisure. The City's playgrounds provide opportunities for unstructured play that is essential for children's physical and social development. Playgrounds can also serve as community focal points, facilitating social interaction and inclusion, thereby enhancing community wellbeing.
Council's Playground Strategy and Action Plan 2013-23 sets out the long term plan to achieve a comprehensive playground network of quality, fun, accessible and well maintained playgrounds that meets the current and future recreational needs of Greater Dandenong residents.
The strategy will increase the number of playgrounds across the City and aims to maximise the chance for every resident to have easy access to playgrounds.
The strategy aims to improve the design and standards of all playgrounds across the City, as they fall due for upgrading, by focusing on improving play value, diversity, accessibility, community safety and integrated park design.
The strategy contains an Action Plan which will facilitate the staged installation and upgrade of playground across the City over the next twenty years.