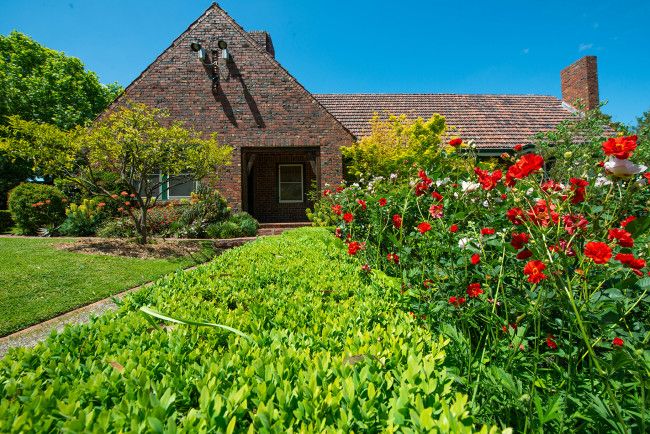 Venue facilities
Exhibition/Gallery Space
Inviting surroundings (Gardens/Bushland)
Meeting Rooms
Heritage Hill Precinct is of local historical and cultural significance, reflecting the course of the City of Greater Dandenong's cultural history. Laurel Lodge (1869), Benga House (1936) and St James' Anglican Church (1864) offer a glimpse into the everyday lives of a group of prominent locals who lived in the region during the late nineteenth and early-to-mid twentieth centuries.
Today Laurel Lodge and Benga House offer visitors opportunities for learning, participation and creative endeavour through tours, classes and exhibitions. Additionally, they regularly welcome artists for short-term residencies to create new work that is inspired and influenced by the real and imagined histories of their temporary studios.
The gardens of Heritage Hill are a part of Dandenong's history. As well as providing attractive settings for the historic buildings they help us understand how people in the past related to their environment. You are welcome to enjoy the garden with lunch or just for a quiet break.
Heritage Hill offers an opportunity for artists and community agencies to exhibit community exhibitions in a unique and historic setting in the heart of Dandenong. The site features three buildings of heritage significance and two acres of landscapes historic gardens. Heritage Hill has a number of smaller spaces available for hire that are perfect for self-contained meetings.
Heritage Hill Opening Hours
Open 10am to 2pm - Wednesday to Friday until 24 November 2023 (excludes public holidays). No appointments required. The site is open by appointment outside of these times.
Guided Tours
Guided tours of Benga House, Laurel Lodge or the historic gardens are available on request. To book contact Council's Heritage Hill team on 8571 1000 or email culturalheritage@cgd.vic.gov.au.
Garden Opening Times
Casual visits only - no guided tours.
Open 10am to 2pm - Wednesday to Friday - No appointments required.
Venue Spaces
The exhibition space available for hire under the Community Exhibition Program is inclusive of Langley Gallery, the Master Bedroom and the Hallway.
Please note: all measurements are approximate, hanging track heights vary throughout the building, please speak to staff to obtain measurements.
The Langley Gallery
Room features include:
total floor space 43m2
total wall lineage 15.5m
aluminium gallery track hanging system
track system halogen spotlights with dimmers on three separate circuits
natural light
The Master Room
This space is ideal for small, intimate installations.
Room features include:
total floor space 20m2
total wall lineage 10.5m
aluminium gallery track hanging system
track system halogen spotlights with dimmer
some natural light
Hall Space
Features include:
Hiring a space at Heritage Hill Museum and Historic Gardens
For all hire enquiries please contact the Civic Facilities team on bookings@cgd.vic.gov.au or 8571 5340.
More information
Heritage Hill's Gardens

The gardens of Heritage Hill are a part of Dandenong's history. As well as providing attractive settings for the historic buildings they help us understand how people in the past related to their environment.
The gardens of Laurel Lodge, Benga and St James' Church are all quite different, reflecting the desires of their creators and the diverse uses to which they were put.

Domestic gardens have been an important feature of Australian life since European settlement, both as a source of food and as a place of beauty and recreation. In country towns house blocks of one acre allowed plenty of room for large trees, a vegetable plot, fruit trees, a poultry run and perhaps a cow or horse. It was also fashionable to have large garden beds full of flowers to produce a 'show' of massed annuals and perennials.

The Benga Garden was designed and tended to by Mrs Hart for over 50 years. It exists today as an exceptional representation of 1930s garden design with its compartmentalised areas, ornamental trees and shrubs, a formal rose garden, perennial garden beds within expanses of lawn, formally designed paths, a pergola and a sun dial.
The garden has not been significantly altered since the 1930s and is a noteworthy survival of a garden reflecting the period of its creation, designed and maintained by an enthusiastic amateur gardener.
History of Benga House
Designed by renowned architect Fredrick Ballantyne and built by Norman Taylor in the Tudor Revival style, Benga expresses the aspirations and developments in domestic housing during the inter-war period.
At the time of its construction, it was to be the largest and most expensive house built in the Shire of Dandenong for over a decade. Through it we can explore the social life of the well-to-do family who resided there for more than 50 years. Benga was:
24 squares comprising seven rooms
Deliberately situated on the south-eastern corner of the site to maximise the northern aspect and to ensure that nothing would interfere with the garden's exposure to the winter sun
Built on an L-plan, with the lounge, dining rooms and the bedrooms situated in the northern/sunny side of the house and the service areas, including the maid's quarters, kitchen and bathroom positioned on the southern/cool side
Today, much of Benga serves as a community access gallery with beautiful, professional exhibition spaces available to artists to exhibit their works.
Benga also offers visitors an opportunity to explore life during the inter-war period through the intricate design of the house, period rooms and through access to Heritage Hill's oral history collection.
The collection includes tapes and transcripts of more than 300 interviews with a cross-section of people from the City. These oral histories are available to researchers and anyone wishing to listen to the life stories of past and present residents. Access to the collection is via prior arrangement only.

Benga Maid's Quarters Refurbishment
In 2010, Heritage Hill was the proud recipient of a 'Victorian Heritage Grant' from the state government (Heritage Victoria). With the primary goal of building strong, active and resilient communities, these grants are designed to help community members feel a sense of identity, belonging and connection.

Heritage Hill was awarded this grant to re-interpret the original maid's quarters in Benga house (1936) and provide public access to these rooms through an audio tour, period display rooms and printed material.

The interactive interpretation includes period dressing of the Maid's Quarters encompassing the kitchen, laundry, pantry and Maid's bedroom with activities throughout. An audio tour and soundscape installation also allows visitors to listen to original recordings from Mrs. Dorothy Hart (owner of Benga house 1936-1987) and several of her maids as they describe life at Benga between 1940-1970.
History of Laurel Lodge
Laurel Lodge is one of the few physical reminders of Dandenong in the nineteenth century. Built around 1869, it is one of the region's oldest buildings.
Laurel Lodge displays a degree of elegance and sophistication that was not evident in contemporary structures of the town.
Its design appears to have been inspired by Italianate provincial ornamental villas and the 'Chinoiserie' style popular in England and America in the eighteenth and early nineteenth centuries.
Laurel Lodge derives considerable local and regional significance from its association with its past owners, who were prominent citizens of the district, and have made important public contributions. These include:
Early Dandenong pioneer Mrs Janet Bowman
Colonial architect Robert Huckson
District doctor Henry Ogle Moore
Flamboyant stock and station agent, and auctioneer, Joseph Clarke
Robert Woodcock, Secretary and Engineer of Dandenong Shire
Laurel Lodge was also the site of an elite ladies private school between 1869 and 1884. Headed by Miss Matilda Shaw it was "one of the leading boarding schools in the colony".
Laurel Lodge was a focal point of community life in the district and provides us with a link to the upper class social network of the past.
History of St James Anglican Church
St James' Anglican Church, built in 1864, is one of Dandenong's oldest buildings and continues to welcome congregations to its services.
Its significance lies not only in its age and elegance as a building, but in the link to the past it provides to present day parishioners. The church, along with its gardens, hall and parish centre has served as a meeting place for the Dandenong community for more than 135 years.
The first church service in Dandenong was held on 21 July 1850 in Dunbar's Hotel and conducted by Rev. J.H. Gregory, a bush missionary. A local meeting was held soon after to discuss obtaining a permanent church building and a local committee was formed to coordinate its organisation.
For the next five years, services were held in a slab hut. It was not until 1855 that a site of two acres was obtained through a government grant and local subscriptions on the corner of Langhorne and Wilson streets, extending to McCrae Street .
In August 1857, a schoolhouse was opened on the site and services were conducted there.
By 1863, it was decided that a church should stand alongside the schoolhouse on the site, and on 5 July 1864 the Foundation Stone of St James' Church of England was laid by the Governor of Victoria, Sir Charles Darling.
The church was ready for use by January 1865 and was dedicated by Bishop Parry, the first Bishop of Melbourne. Services have been held at St James' continuously to this day.
Please note: St James is not open to the public on a daily basis. Access is only via prior arrangement and in accordance with parish restrictions.
For more information visit www.stjamesdandenong.com
Services provided to Gallery hirers
Professional installation assistance and curatorial advice
After hours alarm protection and security gallery staff to supervise the exhibition Tuesday to Friday 10am to 4pm
A list of works or a catalogue produced from information supplied by the exhibitor