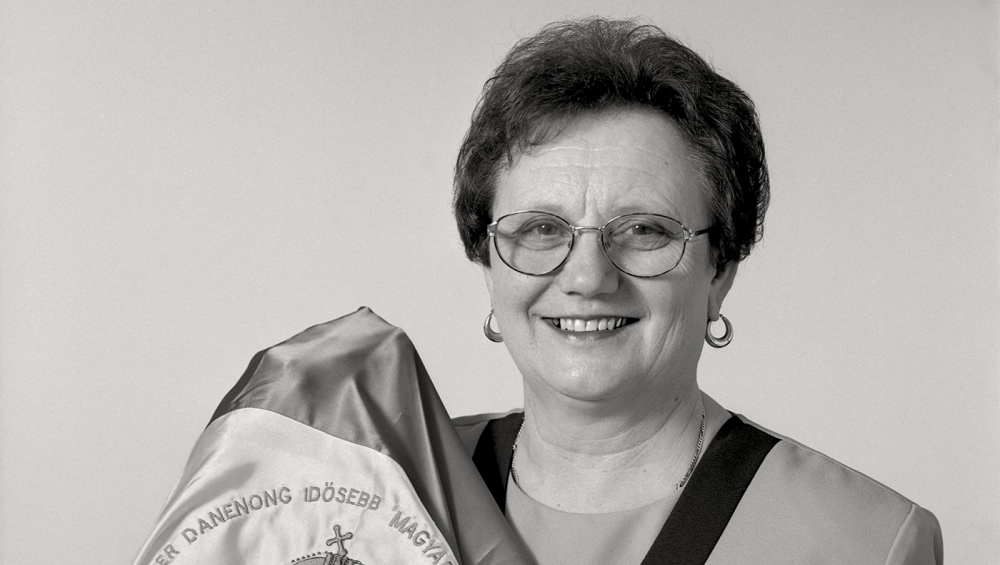 Maria Erdeg's experience of settling here is one shared by migrants from many countries.
The Erdeg family left Yugoslavia in 1971, arriving in Australia with only a few words of English. Looking back, Maria recalls that the first two years were the hardest. She and her husband, Karoly, juggled work and attended English classes at night, while making the many cultural adjustments, in the absence of close family and friends. After six months in Dandenong, the family moved to Noble Park.
Initially, Maria found work in factories, but after several years she retrained and became a keypunch operator for Telecom, for whom she worked for ten years. In 1989 Maria retired and had the time to become an active volunteer. It is a characteristic of Maria that she has extended her skills at every opportunity to better contribute in this area.
Maria was born in a small village near Kaniza, historically part of the Austro-Hungarian Empire until 1918, when it became part of Yugoslavia. As
Maria has always regarded herself as Hungarian, it is not surprising that much of her community work has focused on the wellbeing of this community and in particular, its older people.
Maria enjoys their company and respects their experience and wisdom. She is particularly proud of the award she received for her work with the Multicultural Prime Timers, as part of the "International Year of Older Persons 1999".
Other organisations which have benefited from Maria's input are the Noble Park Community Centre, the Migrant Resource Centres in Glen Waverley and Dandenong, Hungarian Community Radio and Television and the Hungarian Senior Citizen's Club. Maria has been its President for eight years
and its growth and continuing success reflect Maria's dedication and enthusiasm.