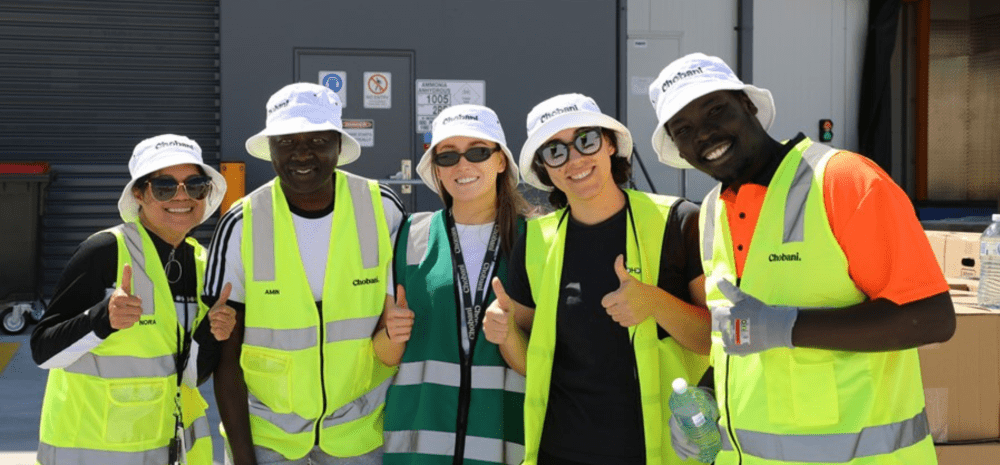 Company culture is often hard to define but when it's good it is something that can positively influence employees, organisations, and community. In 2022, Chobani created the new role of 'Social Impact Manager' to help them make what they believe is the most important thing- a difference. Putting people first, they recognised that having a dedicated resource would ensure that social impact was always on the agenda and one of their strategic initiatives. Tim Browne – General Manager ESG and General Counsel at Chobani, talked with us recently about the initiative.
Tim said that before creating the role, Chobani did a bit of research; they wanted to respond to community and get it right. They engaged an expert consultant to help formulate an inclusive strategy to ensure they meaningfully included existing employees in the development process. The research highlighted that as a food manufacturer based in Dandenong, they could play an important role in helping to fight food insecurity in the local community and nationally. To do this, they needed a dedicated resource and Tim appointed Adisa Hubanic to the pivotal role.
Since the role was created, a number of projects have been launched in conjunction with Foodbank Australia (with whom they have a long-term relationship), and the Schools Breakfast Club. Community has been very receptive. Chobani employees have rallied behind the projects and, relishing the additional opportunities to make a difference, have volunteered to deliver something special for community. Tim said that the support of the Chobani staff really stands out as "these ideas often come at short notice and we're really able to pull our team together to make it a business priority and execute with so much energy and passion".
The wider community has collaborated with the company by engaging with Adisa and helping to educate and inform her about local issues to ensure Chobani develops responses in alignment with their needs. Adisa has also contributed to the GameChange initiative, giving Chobani great insight into how to engage local employers and employees. Adisa said, "community collaboration has been evident through the GameChange Priority Action Group Network and in particular, the willingness to share contacts, knowledge, and time to get PAG participants up to speed on where they can play a role."
In addition to participating in GameChange, Chobani has just announced a new project with Foodbank, where they will donate 100% of profits from a limited-edition product offering, enabling more than half a million meals to be given to people who may not eat a decent meal otherwise- this is in addition to their regular weekly donation of yoghurt products. Chobani also collaborates with five local schools through the Community Hub Program at the 'School's Breakfast Club'. Chobani makes a weekly donation of fruit and yogurt to ensure students are getting the best start to their day. Each school is a Community Hub, where there is a dedicated resource to help support the creation of welcoming places for families from diverse backgrounds to connect, share, and learn - making a real difference for social inclusion. Chobani's aim, as Tim puts it, is to "inspire and engage the parents into the world of work in Australia". Back at Chobani headquarters in Dandenong South, a recent 'World Food Day' event for employees was a great success and lots of fun, with all teams invited to 'bring a plate' to celebrate their own cultural heritage and collecting food and household essentials for Friends of Refugees. Lunch was supplied by local social enterprise caterer, Cultural Cuisines.
One way to help prevent food insecurity is through employment. Chobani knows it's a work in progress, but something they're committed to for the long term. What's more, they seek the ideas of their own employees and include them and their needs when developing future plans. By taking the lead on social issues, Tim said that Chobani will not only help to drive change but inspire others to do the same. By putting people first, Chobani is walking the talk and using "food as a force for good".