There are a range of ways to connect with Council, from enewsletters to Social Media. You can also keep an eye on our News and Media page where you will find news from around the City, announcements, service information and public notices.
Enewsletters
The City of Greater Dandenong has a number of free enewsletters to keep you up to date on a range of topics.
Each one is explained below and you can sign up by selecting each enewsletter you would like to receive below.
Sign up to one or all of our enewsletters.
What's on Greater Dandenong enewsletter
'What's on in Greater Dandenong' enewsletter delivers all the latest local events straight to your inbox every fortnight. Simply sign up online and we'll keep you up to date with all that is happening in Greater Dandenong so you never miss an event.
This monthly enewsletter keeps you up to date on the latest Council news, upcoming events, community consultations, as well provides an online version of Greater Dandenong Council News, Council's community magazine, straight to your inbox.
Sign up for this monthly newsletter to receive information on library events, author talks, educational programs, activities for kids and other news relevant to library users.
If you're a business based in the Greater Dandenong region, interested in joining our thriving business community or just looking to keep a finger on the pulse, then subscribe to this monthly enewsletter for business news and developments in the region.
Your home for all things arts, culture and heritage. Get the latest news of upcoming exhibitions, performances, workshops, talks, artist opportunities and more. Subscribe for regular enewsletters and exclusive invites.
Sign up for Drum Theatre's enewsletter and get the latest news on this premier performing arts venue, including upcoming events and performances, exclusive discounts and offers, and more.
This monthly enewsletter will keep you up to date on Council's community grants programs, as well as community projects and other funding opportunities and more. Great for local community groups and organisations to keep connected with activities of Council and the wider community.
This monthly enewsletter from Council's Parks, Sustainability and Waste teams will keep you up to date with the latest environmental activities running in Greater Dandenong. You will also find advice on action you can take to reduce your impact on the environment.
Each edition of this enewsletter will provide information from various fields related to Sport and Recreation within the City of Greater Dandenong and together, we hope to get everyone making their move.

This enewsletter comes out every 1-2 months and contains information about local all-abilities events, news and policy changes, as well as providing opportunities for the disability community to have their say on local and national matters than affect them.
Greater Dandenong has become a must-go destination for people who love food and culture. There are a number of tours and events available for those who want to explore the area in the company of an expert. Sign up to this enewsletter to find out about upcoming tours and special events.
Greater Dandenong on Social Media
We see social media as an important way to not only keep people up to date with all the latest news and events in our great city, but also make it easier for you to communicate with us. As a result, we are accessible on a range of social media accounts.
We are happy for people to use our social media platforms to contact us, however, we generally only monitor these platforms during business hours so please keep this is mind when posting.
If you have a formal customer service request or need to report an issue, please use our official reporting options.

Greater Dandenong's official social media accounts
Facebook Linkedin Instagram Youtube Twitter
Please note while we always try to ensure the information we publish on our social media platforms is accurate, the information is subject to change. Greater Dandenong is not responsible for any loss or inconvenience arising from the use of social media.
Similarly, links to external websites and other social media accounts are provided as a convenience to users and such sites and associated content are not under the control of the City of Greater Dandenong. It does not imply endorsement of that website, service or person by Greater Dandenong. Remember that social media is a public space on the internet and all interactions are publicly viewable and searchable.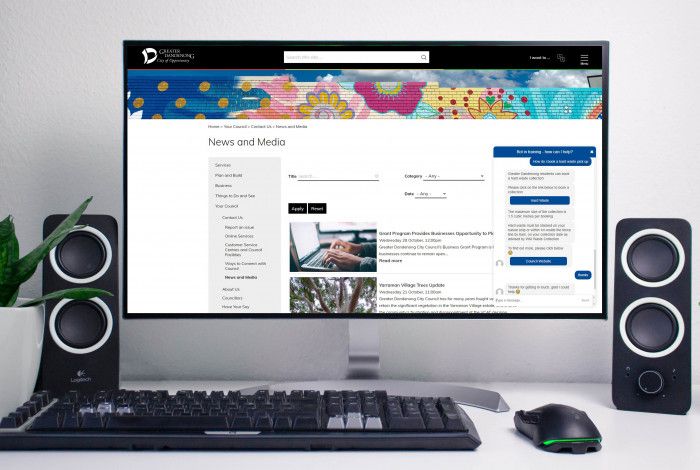 Welcome to our digital front door. Find out how to use the functions and options on Council's websites.