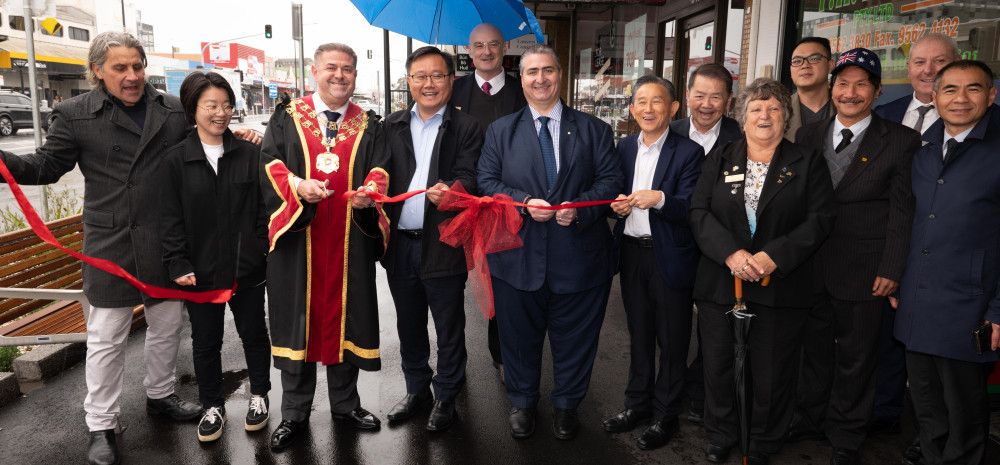 A new highly accessible and functional Springvale Boulevard has been officially opened by Greater Dandenong City Council in collaboration with the Victorian Government to attract more visitation to the precinct.
Mayor, Cr Jim Memeti joined Member for Clarinda, Mr Meng Heang Tak MP, Member for the South Eastern Metropolitan Region (on behalf of the Premier), Mr Lee Tarlamis OAM MP, fellow Councillors, Cr Richard Lim OAM, Cr Loi Truong, Cr Sean O'Reilly and Cr Angela Long, representatives from the Springvale Asian Business Association (SABA) and delivery partners, MACA and Hassell, to celebrate the transformation of the Boulevard that now includes more space for pedestrians and footpath trading activities.
The Mayor, Cr Jim Memeti said the wider crossings and a safer road environment with reduced traffic speeds, traffic calming devices and better street lighting, will provide improved access for pedestrians, cyclists and motorists using Springvale Boulevard.
"We expect local businesses to see increased visitation levels here now following the completion of our revitalisation works.
"Springvale Boulevard is refreshed and will help attract and retain sustainable retail, cultural and tourism activities.
"This new high quality, revitalised public realm provides more seating for people to stop, rest and socialise.
"The new walkable and landscaped streets will green over time and contribute to the wellbeing and economic health of our community.
"We trust this project will help foster a renewed sense of community pride in the Springvale Activity Centre," said the Mayor.
Council and the Victorian Government's joint investment will reinforce the status of 'Sensational Springvale' as one of Melbourne's leading cultural destinations.
The enhanced Springvale Boulevard responds to feedback received by Council from extensive community engagement, and now reflects the community's aspirations for the area.
"Council thanks the State Government for their funding support and to our delivery partners MACA and Hassell for their passion and commitment to this project that has helped us realise our vision for a vibrant and revitalised Springvale Boulevard.
"It's rewarding that we continue to embrace and celebrate who we are in Greater Dandenong through strategic and engaging revitalisation works. The heart of Springvale is again pumping," said the Mayor.
Council has recently engaged Realm Studios to commence the Springvale Revitalisation Action Plan. The public realm, investment and activation strategy will support the evolution of the area. The Springvale Community Hub and newly revitalised Springvale Boulevard are projects that celebrate the area's rich cultural tapestry and provide a renewed sense of pride, the Springvale Revitalisation Action Plan will build upon this heritage.