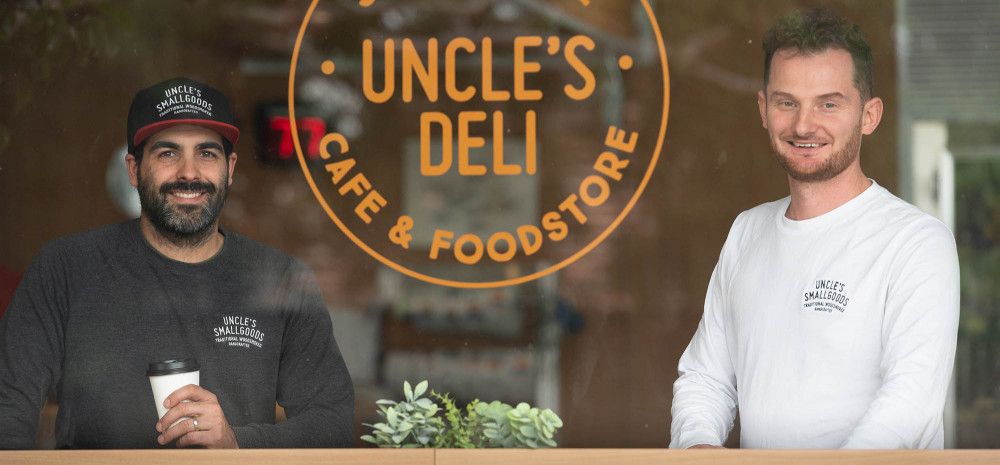 Uncle's Smallgoods, local makers of high-quality Deli cuts have made the move to a whole new flagship foodstore and café.
From the growing number of local and loyal customers, including customers from far and wide, Uncle's Smallgoods have outgrown their old shop, relocating to a spacious venue at 32 Gladstone Road, Dandenong.
Having more space means a greater variety of choices for you to purchase, from the 10-metre-long deli fridge filled with deliciously made food, to the freshly baked bread from the local bakery, Noisette. You can wander through the aisles of speciality foods and what could arguably be Melbourne's biggest selection of pickles to compliment your deli purchases.
There are over 100 products in their range including smoked salmon, bacon, American style beef brisket, continental sausages and their recently made famous New York Pastrami, which you'll see on the menu at the best sandwich bars and restaurants around Melbourne.
The foodstore is seriously unique, on the shelves you'll also discover an extensive range of imported European products that typically come from Poland as well as Italy (paying homage to the two owners). From an extensive range of pickles, rare mustards and sauces to ready-made meals such as Pierogi (Polish dumplings) which are made in house.
With the new venue comes a great outdoor dining space, where you can purchase a delicious fresh lunch and enjoy it on the doorstep, with an excellent cup of coffee.
The boys proudly use only 100% Free Range Australian meat in all their products and sell their goods around Australia to the best speciality foodstores and cafés.
Owners, Brendan D'Amelio and Bert Glinka have realised their vision, expanding from a single shopfront deli on Thomas Street to a purpose-built smokehouse manufacturing plant and now this new flagship foodstore in Gladstone Road.
Visit them at 32 Gladstone Road, Dandenong North or online at unclessmallgoods.com.au