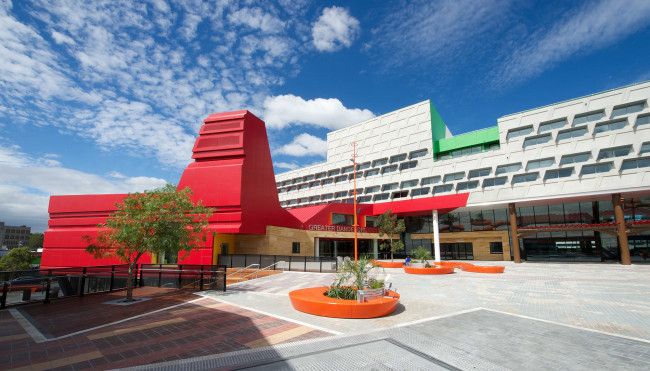 Venue facilities
Accessible Toilets
Air-conditioning and heating throughout
AV Equipment, including electronic screens, data-projectors, TV, speakers
Carpet floor
Chairs and tables
Kitchen (Commercial)
Meeting Rooms
The Dandenong Civic Centre located in central Dandenong at the corner of Lonsdale and Walker streets contains diverse array of business units together in the one place.
Hiring the Dandenong Civic Centre Meeting Rooms
See the table below for hire rates. Other fees such as security bonds, public liability insurance and additional hourly rates which may apply.
Please make sure you read the hall hire conditions before making your booking.
For bookings, inspections and other enquires, contact Council on 8571 5340 or email bookings@cgd.vic.gov.au.


Booking Requests
We are now offering online booking requests. Please read the information below before clicking on the 'Request a booking' button below.
Things to know before you start a booking request:
A booking request does not confirm your booking until a Venue Bookings Officer has made contact with you, payment is requested and required documents have been provided. Upon approval - payment is required at least 20 days in advance of the booking date
All casual booking requests for functions require a minimum 20 days notice
Have your dates and venue information ready before you start to save time
Have your required documentation ready (which could include driver's licence, not-for-profit documentation, public liability insurance, alcohol permit
For major event requests or regular venue hire - please contact a Venue Bookings Officer during business hours for more information.
If you have any questions or issues, please contact the Civic Facilities team on bookings@cgd.vic.gov.au or 8571 5340
Dandenong Civic Centre Meeting Rooms Hire Fees
More information
Accessible toilets and change facilities
Features:
Adult sized change table
Electric ceiling hoist
Two toilets
Showers height adjustable basin
Opening Hours:
Monday - Friday, 9am - 9pm
Saturday - Sunday, 12pm - 5pm
Selected public holidays 2pm - 5pm
Entry method: To access this facility, you will require an MLAK key. Keys are available from the Dandenong library or the customer service centre. The facility is located on the ground floor between library and customer service desk. For further information please phone 8571 1000.