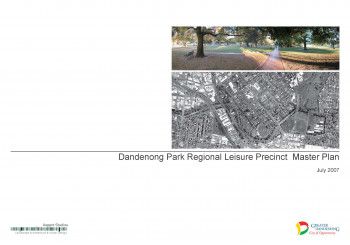 Dandenong Park - Building a Better Dandenong Park
The Dandenong Park Regional Leisure Precinct Master Plan was adopted by Council in July 2007.
The master plan establishes the long term vision and direction for the district park in Central Dandenong and was developed after extensive community and stakeholder consultation.
The master plan forms an integral part of the Revitalising Central Dandenong project being delivered by the Victorian Government, through Development Victoria and the City of Greater Dandenong.
The vision for Dandenong Park is to bring the park into the 21st century, while respecting its past. The master plan aims to transform the park to become a multi-purpose open space area that enables a broad range of passive and active recreational pursuits, supports the diverse community, and strongly links to the Central Dandenong Activity Centre. The master plan balances and supports the sporting, recreational, social and community events and facilities with the extensive tree planting and environmental benefits the park provides. The heritage values and former uses of the park are celebrated and acknowledged through engaging and integrated interpretative artwork.
Council is making huge improvements to Dandenong Park and since the adoption of the master plan, Council has invested significantly in transforming it into a contemporary urban park.
Key achievements to date include:
Riverside Precinct
District playground
Large picnic area with bbqs, seating, tables and shelters
Shared concrete pathway, including lighting, tree planting and seating
Heritage interpretative signage of the former RSL Drill Hall and River Red Gums
Tree planting and landscaping.
North Area Precinct
New shared cycle and walking pathway with lighting and park furniture connecting Lonsdale Street in the city centre to the Dandenong Creek trail
New public toilet
The new Stan Prior Stage
A new large social gathering space with shelters, bbqs, tables and seating
Two table tennis tables
Multi-purpose activity court with basketball and futsal goals
Tree planting, garden beds and open lawn
New path networks.
Future projects planned for the North Area Precinct include:
The 'Tan Track' along Pultney Street and Lonsdale Street to create a circuit path
Fitness equipment
Improvements to the park entrance at Foster Street, including upgrading the Rotary Wheel garden area with new seating, paving and landscaping
New paths and seating
Heritage interpretation of the kindergarten, bowling club, centenary gates and croquet club
Tree planting and landscaping.
This new and exciting vision for the park is reflected in the concept design.