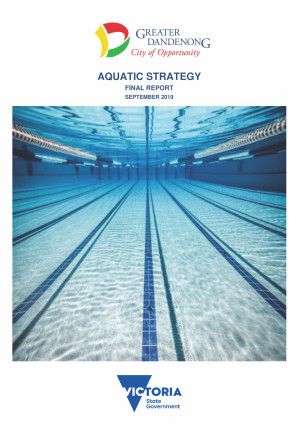 Shaping the future of Greater Dandenong's Aquatic Facilities
The Aquatic Strategy was adopted by Council on 23 September 2019 to guide the future provision of aquatic and leisure facilities in the City of Greater Dandenong. The strategy includes recommendations that relate to both of Council's aquatic centres - Dandenong Oasis and the Noble Park Aquatic Centre (NPAC).
The development of the Strategy involved detailed research and analysis and a comprehensive consultation process involving over 1,570 responses from the community.
The following provides a summary of the Strategy's strategic framework and recommendations:
Vision
More people, more active, more often.
Guiding Principles
Enhancing community health and wellbeing
Maximising equity and access
Facilitating Social Connection
Providing High Quality Facilities
Creating Financially Sustainable Outcomes
Recommendations
That the City of Greater Dandenong provide two complementary aquatic and leisure centres that provide the following primary functions into the future.

a. The Dandenong replacement facility to be a multi-purpose aquatic and leisure facility offering all year-round services with a focus on: allied health, passive activity, education, fitness and wellness and in particular catering for special needs and targeted groups.

b. NPAC to be a family friendly facility offering all year-round services with a focus on: leisure, recreation and fitness, sport-based usage (e.g. school carnivals) and summer activities.

That a new aquatic and leisure centre be developed to replace the existing Dandenong Oasis.
That the new Dandenong facility comprise a range of complementary aquatic and leisure facility components.

a. Proposed facility components to include:

i. 50m 8 lane pool (with moveable boom / swim wall)

ii. Two (2) warm water pools

iii. Learn to swim pool

iv. Leisure pool / water play

v. Spa, sauna and steam room

vi. Gymnasium

vii. Program / group fitness rooms (3).

viii. Amenities – café, meeting room, crèche, change rooms etc.

That the future Dandenong aquatic and leisure centre be located in Mills Reserve.

That NPAC be redeveloped into the future to include an expanded range of year-round services.

a. Proposed improvements / facility components:

i. Expanded indoor pool hall:

- Dedicated learn to swim pool.

- Enclosure of water play / leisure water.

- Spa, sauna and steam room.

- Redeveloped program pool.

ii. Health and wellness gymnasium.

iii. Enhanced accessible change rooms.

b. Retention of 50m pool as an outdoor pool (short to medium term) and reassess the future enclosure of the pool as a long term option.
Next steps
The Stage One redevelopment of NPAC is currently under construction.
The design process for the new aquatic and wellbeing centre in Dandenong (new Dandenong Oasis) is currently underway.