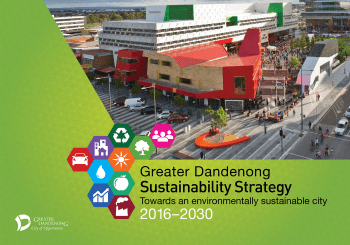 Imagine a city where:
a diverse culture supports a healthy and thriving community
there are sustainable buildings, which are attractive, affordable, and powered by renewable energy
there are well-connected places, which make it easy for residents to walk, cycle or catch public transport
there are a range of local and sustainable fresh food options for residents, workers and visitors.
there are healthy waterways, open spaces and rich biodiversity levels, which are valued, protected and enhanced.
there are a range of exciting new education and employment opportunities
local businesses recognised as world leaders in innovation, technology and sustainable practices.
This is what we want for the City of Greater Dandenong. Our vision is to be one of the most sustainable cities in Australia by 2030. We are working hard to achieve it and with your help this future can be a reality sooner than you think.

About the Greater Dandenong Sustainability Strategy
The Greater Dandenong Sustainability Strategy 2016-30 provides the strategic framework to achieve our vision, by informing decisions and helping to shape the plans and activities undertaken across the municipality and region.
While Council has significant ability to influence sustainable outcomes, it cannot do it alone. Our community, stakeholders and partners will also need to act, and the strategy and this website will guide their activities.
To achieve this vision, the strategy focuses on 10 specific themes, with goals, objectives and targets identified for each of these themes.
For items that we have direct operational control over, corporate objectives and targets have been listed. For those areas outside of our direct control but we can provide support on, community objectives and aspirational targets have been identified.
Council and the community's progress towards the objectives and targets will form the basis of future annual sustainability reports. These reports provide transparency and convey our commitment to achieving a sustainable municipality for the benefit of the community.
Please contact us if you require this document in an alternative format.