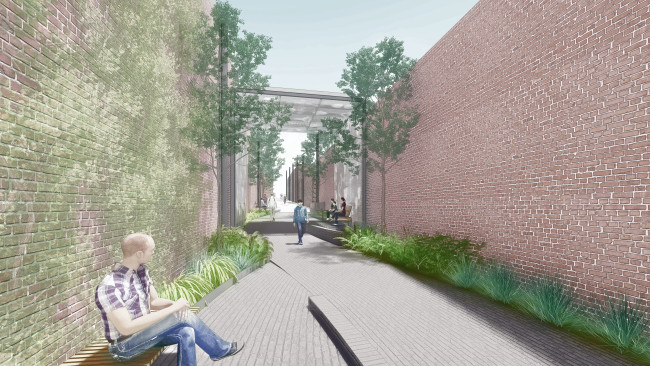 Project Background
The Vanity Lane project is a new pedestrian priority lane in central Dandenong that improves connections between Lonsdale Street and Thomas Street; two of Dandenong's most active streets.
It will establish a vital east/west pedestrian link within the central street network. The new lane will be a safe, comfortable and welcoming 24/7. It will support walking and connect people to much loved destinations and easy central parking option. Current links are only accessible via private businesses and arcades with restricted operating hours. The site has important historical connections to notable local families and individuals, Anzac commemoration and a celebrated botanical collection of state significance.
A Site of Historic Significance
The address, 275 Lonsdale Street in Dandenong, has a unique local history of retail uses dating back to the late 1800's and is associated with notable families and individuals, Anzac commemoration and a celebrated botanical collection of state significance.
Joson Couve arrived in Australia from Mauritius in 1883 and opened his first pharmacy in Lonsdale Street in 1884. Later in 1911, he moved his chemist business to 275 Lonsdale Street and ran it for 8 years. During this period his two sons enlisted and went to Gallipoli where they were amongst the first Dandenong boys to be killed in action.
The site continued as a pharmacy until the mid 1980's changing hands seven times, from one family pharmacist to the next. Charles McKeon was the longest serving pharmacist at this site from 1952 – 1976. McKeon's son, Simon, became a lawyer, investment banker, CSIRO Chairman and Monash University Chancellor. He was the 2011 Australian of the Year and was appointed an Officer of the Order of Australia for his charitable and community endeavours.
Local histories, photos and stories associated with the Couve and McKeon families have been researched and form part of the historic narrative for 275 Lonsdale Street.
Design Process
In July 2020 Council engaged leading experts Hassell Design Studio to develop design concepts for Vanity Lane. The lane is expected to be welcoming, safe and high functioning for a variety of uses with an emphasis on pedestrians moving easily between Lonsdale and Thomas Streets. The design will give attention to:
Lighting for safety and to create a unique experience
Design features including public art
Pavement and wall treatments
Greenery and landscaping
People counters, CCTV and WIFI technologies
Design Principles
Using the community feedback, Hassell Design Studio developed a series of guiding design principles for the project. They are:
An accessible space
Designed to gradings conforming with Australian standard; Establish incremental level changes with resting opportunities in between; Preferably 1: 20 grades to minimise required infrastructure; Provide generous landings that invite resting and lingering
A safe and welcoming space
Encourage use of lane through clear and inviting entry gestures; Provide intuitive wayfinding and clues to indicate destinations at either end of the lane; Provide sufficient lighting to feel safe at night [P6 levels to match Lonsdale Street or higher]; Provide active and passive surveillance in the lane
A space to linger and enjoy
Design not just a thoroughfare but also a destination; Provide access to sun and shade; Provide amenities such as green and softness
A space that tells a story
Use public art and design to narrate the history of the place; Create a unique experience in traversing the lane; Convey the pharmaceutical narrative through interpretation, use of planting and information.
Design Vision
Vanity Lane is a safe and welcoming new public space connecting two loved destinations in the fabric of Dandenong's Activity Centre. In walking the lane, one can connect to the place and its past, the stories held within and without its physical and metaphysical dimensions.
Key Design Features
These principles and exciting vision for the lane are reflected in the concept design. A summary of key features of Vanity Lane include.
Within the footprint of 275 Lonsdale Street, the design includes a meandering path winding through the lane at a universally accessible gradient of 1:20 – perfect for wheelchair and prams without requirement of handrails or tactile treatments.
The space is organic, inviting and green with vegetation featuring prominently at the Lonsdale Street section of the lane. Here the lane widens to 6 metres allowing for a 3 metre wide path and plantings to either side.
Flat platforms provide public seating and space to linger and enjoy murals in perforated metal panels that celebrate the pharmacy history of the site.
Functional lighting illuminates the space at night maintaining an even brightness on the path to ensure it feels safe. Atmospheric lighting is used to decoratively highlight the mural panels for a different evening experience.
Overhead structures at key intervals provide dappled light and weather protection. They are a strong gesture to draw people into the space.
The place narrative links nature and science more deeply with the pharmaceutical history of the site. Broad concepts of the pre-European landscape, botany, healing and pharmacy feature throughout the site in artworks, planting and interpretive signage.
The space incorporates a 3.5 meters wide shared lane at the Thomas Street section to facilitate business and other uses.
WIFI, CCTV and smart street technologies including people counters will assist in monitoring and management.
Next steps
Council is looking for information from the community on the history of the area.
If you have memories or material that relate to these local pharmacists Council we would appreciate hearing from you.
VS Lalor (1920's)
JT Sanders (1920' and 30's)
AF Abfalter (1930's)
AG Finlayson (1940's)
Brian Davies (1980's)
If you have any information, please contact Vanity Lane Project Manager.