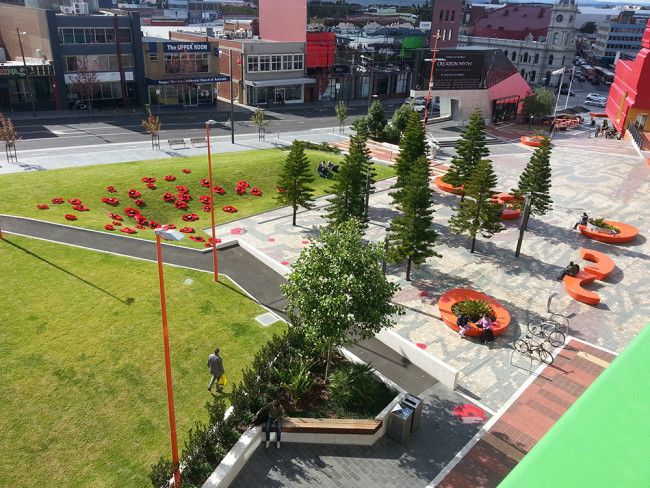 Venue facilities
AV Equipment, including electronic screens, data-projectors, TV, speakers
Chairs and tables
Sound system
Stage
Harmony Square is Dandenong's civic heart located centrally in Lonsdale Street and nestled amongst award winning public amenities including the Library, council offices and Drum Theatre.
The public square is a generous and welcoming community square, an exceptional meeting place and focal point for large scale outdoor events for up to 2500 people. On a day to day basis it's a shared communal space with a diversity of places to sit and relax on architecturally designed seating or the rolling green lawns. Harmony Square is an exemplar of urban design combining a large digital LCD screen which will play host to locally produced film content as well as content from further afield; trees and landscaping; retail areas and cafes; intricately designed artful paving.
Harmony Square completes the well-lit pedestrian friendly connection from the station to central Dandenong's main retail and commercial area. The square is importantly located opposite the Drum Theatre (Dandenong Town Hall), the city's most recognisable historic landmark.
Activities and Events in Harmony Square
Harmony Square is a place for incidental smaller gatherings and ad hoc screenings, or larger and more formal events such as movie nights, craft markets, public launches, community information, public ceremonies and cultural performances.

Holding an event in Harmony Square
Guidelines for Activities and Events in Harmony Square - 4.2MB
Find out how to hire and hold and an event at Harmony Square
More information
Free wifi available at Harmony Square
Greater Dandenong has a range of free public WiFi zones to help residents and visitors stay connected.

Using the WiFi
Public WiFi users:
can access the network outdoors, at street level

have no download limits

are required to log in again after 1 hour of use

can access the free WiFi between 5am-10pm
How to connect to the network
Connecting to the Greater Dandenong free public WiFi network can be done in three easy steps:
Take your device to the nearest WiFi hotspot

Go to the WiFi settings on your mobile device and select 'Free Council WiFi'

Follow the prompts on the screen to connect
No personal details such as email, passwords or personal data need to be provided to access this free service.
Awards and Design Recognition
Harmony Square and the adjoining Greater Dandenong Civic Centre has received numerous Industry Design Awards recognising the design excellence achieved by Lyons Rush Wright Architects and Landscape Designers. These have been described and critiqued by urban design and public space commentators through magazine articles written about the public space, its symbolism and design elements.
Industry awards
Articles and Publications