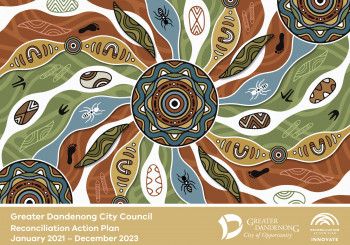 Greater Dandenong City Council, acknowledges and pays respects to the Bunurong people of the Kulin Nation, as the Traditional Custodians of the lands and waters in and around Greater Dandenong.
We value and recognise local Aboriginal and Torres Strait Islander cultures, heritage, and connection to land as a proud part of a shared identity for Greater Dandenong.
Greater Dandenong City Council pays respect to Elders past and present and recognises their importance in maintaining knowledge, traditions, and culture in our community. Greater Dandenong City Council also respectfully acknowledges the Bunurong Land Council as the Registered Aboriginal Party responsible for managing the Aboriginal Cultural heritage of the land and waters where Greater Dandenong is situated.
The Reconciliation Action Plan (RAP) embodies Council's commitment to advance the process of reconciliation and strives to embed reconciliation across policy, business and community structures.
This includes: creating meaningful partnerships that empower and embrace Aboriginal and Torres Strait Islander peoples' involvement and leadership in decision-making; promoting Aboriginal and Torres Strait Islander peoples, cultures and experiences, free of racism and discrimination; equitable employment and business opportunities for Aboriginal and Torres Strait Islander peoples; and improving the health and wellbeing of Australia's First Peoples who live in, work in, and contribute to the Greater Dandenong community.
This Plan also outlines a clear way forward – for both Council and the broader Greater Dandenong community to positively contribute to reconciliation.
This RAP has been developed following consultation with the Bunurong Land Council, and acknowledges engagement with Elders, Aboriginal folk, Aboriginal and Torres Strait Islander representative bodies, City of Greater Dandenong residents, Councillors, and Council staff.