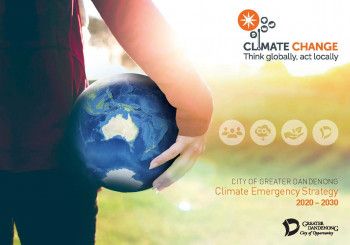 Climate change is here, and its impacts are already affecting our environment, our society and our economy. While global efforts to tackle climate change are increasing, the science is clear that these efforts are not enough to keep climate change from affecting life on earth in increasingly severe ways. With climate change already impacting our day to day lives, we need stronger action, urgently.
What is Council doing?
While Council is already acting by implementing the 2016 Greater Dandenong Sustainability Strategy, we all need to do much more if we are to do our fair share to limit global warming to 1.5oC, combat climate change and reduce exposure to the unavoidable impacts of a climate change crisis.
Declaration of a Climate and Ecological Emergency
Recognising this, Greater Dandenong City Council, in January 2020 joined a growing number of cities around Australia and declared a 'Climate and Ecological Emergency' committing us to emergency action on climate change.
Greater Dandenong Climate Emergency Strategy and Action Plan 2020 – 2030
Council has developed a Climate Change Emergency Strategy and Action Plan 2020-30 to help the City of Greater Dandenong become a resilient, net zero carbon emission city with an active community prepared for the challenges of changing climate.
Solar Savers
The City of Greater Dandenong is one of nine other Victorian councils who have implemented the Solar Savers program.
The program provided low cost solar solutions available to all homeowners, from low income earners, single income families, pension card holders, and to home business owners.
Council's participation in the Solar Savers program concluded in June 2020 however residents can still contact Solar Savers for further information on the program and related State Government grants. Telephone 1300 548 598 or email info@solarsavers.org.au
For more information visit the website at www.solarsavers.org.au
Previous consultation:
In 2018, Council engaged consultants to help establish a detailed evidence base to help guide the development of the draft Climate Change Strategy and its supporting Action Plan. The four background reports prepared can be found in the following documents:
Sought community feedback through an initial round of public consultation
Extensive public consultation with the community was undertaken March – May 2019. Council received 897 survey responses and a further 123 submissions for a total of 1020 responses.
Survey responses
Key findings from the survey responses include:
92 per cent of respondents are worried about climate change
94 per cent of respondents think it is important that Greater Dandenong act
90 per cent of respondents want targets of net-zero carbon emissions by 2050
Further details of the community consultation undertaken and responses provided can be found in the Climate Change Consultation Summary Report.