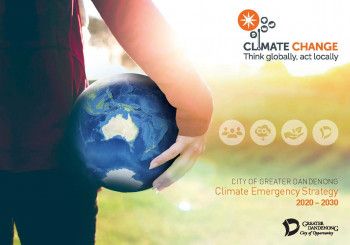 In January 2020 Greater Dandenong City Council joined a growing number of cities around Australia and declared a 'Climate and Ecological Emergency' committing us to emergency action on climate change.
Greater Dandenong Climate Emergency Strategy and Action Plan 2020 – 30
Council has developed a Climate Emergency Strategy and Action Plan 2020-30 to help the City of Greater Dandenong become a resilient, net zero carbon emission city with an active community prepared for the challenges of changing climate.
Consultation that Informed the Development of the Strategy and Action Plan
In 2018, Council engaged consultants to help establish a detailed evidence base to help guide the development of the draft Climate Emergency Strategy and its supporting Action Plan. The four background reports prepared can be found in the following documents:
Sought community feedback through an initial round of public consultation
Extensive public consultation with the community was undertaken March – May 2019. Council received 897 survey responses and a further 123 submissions for a total of 1020 responses.
Survey Responses
Key findings from the survey responses include:
92 per cent of respondents are worried about climate change
94 per cent of respondents think it is important that Greater Dandenong act
90 per cent of respondents want targets of net-zero carbon emissions by 2050
Further details of the community consultation undertaken and responses provided can be found in the Climate Change Consultation Summary Report.
Supporting Documents
Literature Review and Discussion Paper - 1.4MB
Climate Change Action - Gap Analysis Evaluation Report - 8.8MB
Greenhouse Gas Emissions Profile and Mitigation Report - 2.2MB
Climate Change Risk and Adaptation Analysis Report - 3MB