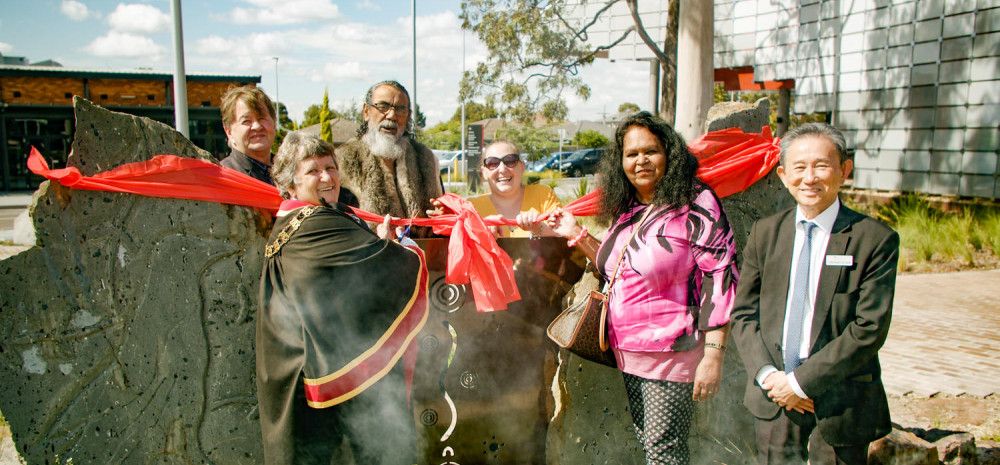 A ceremonial fire pit and symbolic sculpture has been unveiled in the heart of Springvale.
The firepit, titled 'Waa and Buln Buln Corroboree" is an important focal point of the Springvale Community Hub, and will be used for permitted events and ceremonies.
Mayor of the City of Greater Dandenong Cr Angela Long said the artwork is a significant symbol of Council's commitment to recognise the traditional owners of the land where the municipality sits.
"The importance of heritage and culture is central to who we are. There are many facets of this beautiful space that pay tribute to the history of Springvale, dating back to the nation's First People. This magnificent artwork will be enjoyed by many generations in a space that encourages people of all ages, backgrounds and interests to come together," Cr Long said.
Artists Fiona Clarke and Ken McKean created the artwork in collaboration with Bunurong and Wurundjeri Land Councils.
The artwork includes a symbolic sculpture comprising of two large bluestones. A lyre bird (Buln Buln) and crow (Waa) have been hand carved into the stone symbolising two local aboriginal clans, the Wurundjeri and Bunurong of the Kulin nation. As night falls, the carvings glow and reflect the night sky above.
The bluestone rock symbolises Aboriginal people's connection to the earth and references them as the oldest living culture in the world.
Between Waa and Buln Buln is a sheet of steel symbolising the connection between the Wurundjeri and Bunurong peoples and the strength of their culture.
A mixing bowl has been placed near the fire pit to invite attendees to join in ceremony by rubbing ochre onto their faces. Seating has been made from locally grown reclaimed river red gums.
Cr Long said the artwork is a feature of many significant pieces across the municipality.
"Council works with many First Nation's artists on a number of projects across Greater Dandenong, and this work at Springvale Community Hub is a real highlight amongst the many pieces featured in the region."