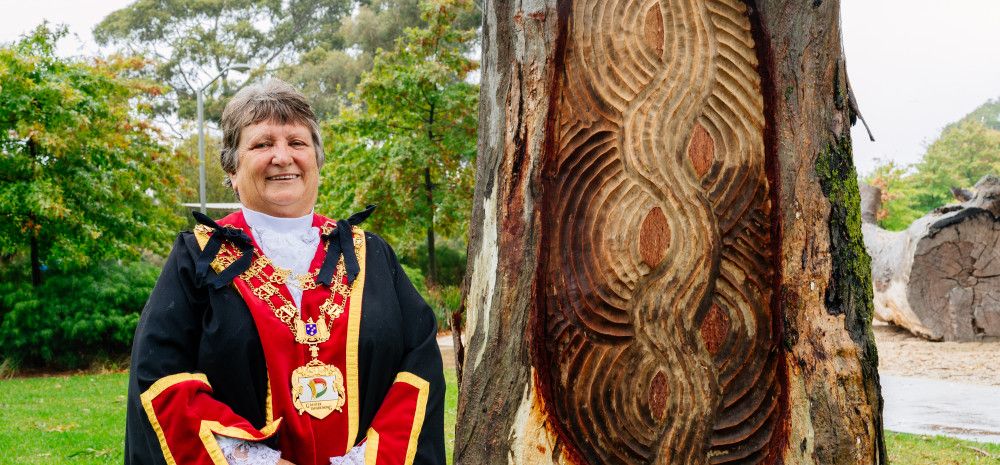 Earlier this year l had the great honour of witnessing the carving of the message tree in Dandenong Park.
The welcome to land was performed by Bunurong Elder Mik Edwards. The tree is a 100-year-old River Red Gum and the message was carved by the CEO of the Bunurong Land Council, Dan Turnbull.
To begin the process, a section of bark was removed from the tree which allowed the wood to be carved. The bark removed was used to make a shield in the traditional ways passed down through the generations of the Bunurong Elders.
The carving took quite a few hours and the result is magnificent. I encourage everyone to have a look at this Aboriginal artwork on the tree which is on the Lonsdale Street side of Dandenong Creek near the walking path that leads to the bridge.
I am excited about the building of the new Dandenong Wellness Centre, (new Oasis) that will be constructed in Mills Reserve, Dandenong, with completion expected in 2023–24. The Oasis will still operate until the new centre is opened so residents of Greater Dandenong will not be without the facilities that the Oasis brings to our community.
Dandenong Hub is another project that is close to my heart, residents have been very patiently awaiting this project to begin for a long time. This is also expected to be completed by 2023–24.
I would encourage everyone that is eligible to have a COVID-19 vaccination to get it as soon as possible. l have had my first vaccination and l will have the second one later this month. I recently visited the new mass vaccination centre at Sandown Racecourse, it's pleasing to see such a great facility available locally.