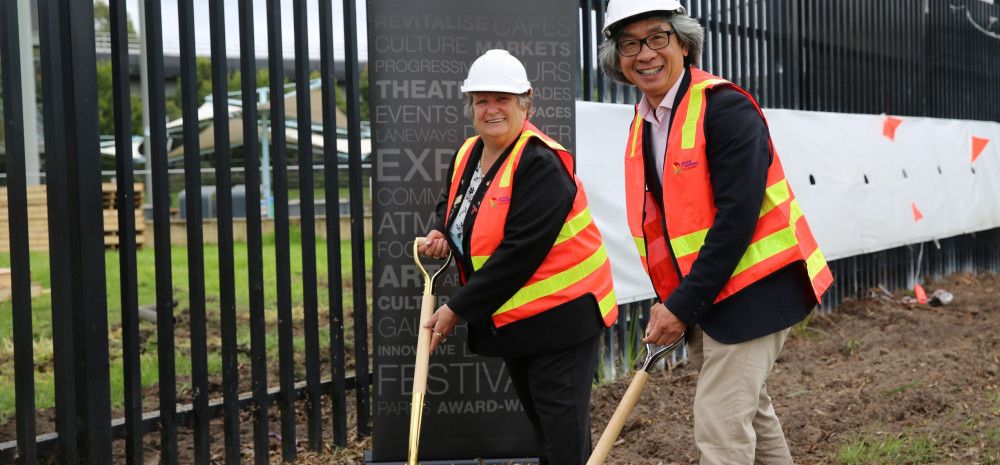 Works to develop a new health and wellbeing gymnasium in Greater Dandenong have commenced, with Stage 1 of the Noble Park Aquatic Centre (NPAC) Redevelopment underway.
Plans include a two-storey redevelopment and extension to provide a 600 sqm gymnasium with areas for personal and group training, dedicated female, male and accessible change areas, a social space, offices and provision for after-hours access.
Mayor Angela Long said the facility will have a significant impact on the health and wellbeing of the community.
"We are thrilled to see works commence on the Health and Wellbeing gymnasium, which will have a positive impact on participation levels, community health and the operational sustainability of the centre," said Cr Long.
"From spin classes and weight training to gentle exercise and social community spaces – this facility will have something for everyone."
Dr Tien Kieu MP will represent the Minister for Community Sport Ros Spence MP at an official sod turning for the redevelopment on Monday 29 March and said it will be a great facility for the area.
"It's great to see works underway on this landmark local project – which will deliver a bigger, better aquatic centre for the community."
"The redevelopment and expansion will allow more people – of all ages and abilities – to keep fit and have fun at the aquatic centre."
Minister for Community Sport Ros Spence MP said the facility will open up opportunities for the community.
"This investment will support the local economy and create jobs – and support the growing number of people in the Greater Dandenong community to get involved in sport and recreation."
"We know that better sport and recreation facilities make it easier for Victorians to lead healthy and active lifestyles."
Design of the new facility will be integrated with the existing NPAC to provide a consistent look and feel and will incorporate universal design principles to ensure the centre caters for all people regardless of age, ability and cultural background.
Council received a $3.3 million grant from the Victorian Government's Community Sports Infrastructure Stimulus Program for the project, which has total capital cost of approximately $6.7 million and is a key recommendation of Council's Aquatic Strategy.
Council will endeavour to minimise impact on the operation of the existing centre during construction. Subject to COVID-19 restrictions, indoor and outdoor pools will remain open during the construction period, however access to the south-east end of the building will be restricted.
Construction company Melbcon Pty Ltd have been appointed to the project, which is expected to be completed in early 2022.