The City of Greater Dandenong has more than 100 parks, sports reserves and playgrounds. There are also four bushland areas and open space corridors, totaling 600 hectares.
Owned and managed by Council, these open spaces offer a range of activities and things to see and do. You can:
go for a bushwalk
play at a playground
cycle the many paths
enjoy recreational, picnic and BBQ areas
explore local plants and animals.
Types of parks and playgrounds
To meet community needs, our parks and playgrounds range from:
District parks: District parks and playgrounds are the city's largest open spaces. They give the community a chance to play and relax outdoors. Many of the district parks have the city's largest playgrounds. They usually have other major recreational facilities and park infrastructure, such as: BBQ's, skate parks, sports fields and sports facilities. Some district parks connect to regional open space corridors, such as the Dandenong Creek, which incorporate the Dandenong Creek Trail.
Neighbourhood parks: Neighbourhood parks are medium-sized open spaces that provide playgrounds, casual sport opportunities, walking trails, picnic facilities and relaxation areas for nearby residents. Neighbourhood playgrounds are the city's mid-sized playgrounds. They are near other supporting recreational facilities and park infrastructure where possible such as sports fields and seating.
Local parks: Local parks or 'pocket parks' are smaller open spaces within 400–500 metres walking distance of residents' homes. They provide opportunities for passive recreation and relaxation. Some local parks have seats. Most local parks mainly have shade trees and grass areas. Some local parks also have a playground. These are usually a small-scale junior playground for young children.
Linear parks: Linear parks link open space areas. They can also be significant open spaces in their own right. Linear parks include walking and bicycle trails, habitat, and creek and vegetation corridors such as the Dandenong Creek and drainage easements.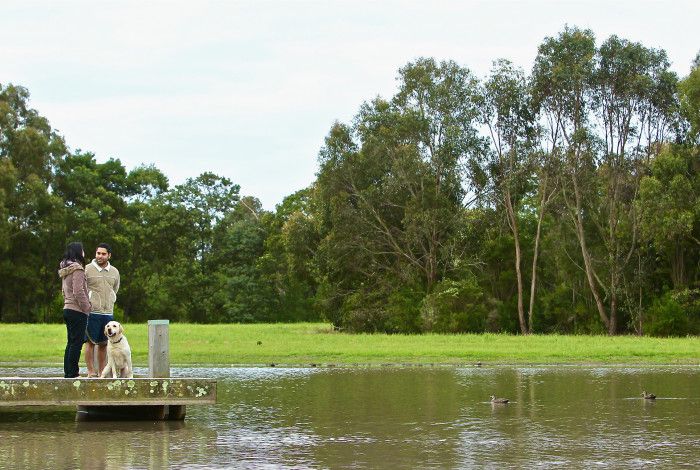 Did you know there are 600 hectares of parks and reserves to explore and enjoy within Greater Dandenong?