The City of Greater Dandenong recognises the clear health and social benefits in owning a pet. Council encourages responsible dog ownership.
Regular exercise is key keeping your dog healthy, happy and social. Council has several areas where you can exercise dogs off-leash.
Council's dog off-leash strategy outlines the way Council creates and maintains dog off-leash areas.
Off-leash dog park rules
You can only exercise dogs:
in the areas where Council says they are off-leash areas
within these off-leash areas and you must put dogs back on their leash when you leave the sign-posted area.
Dogs must always be:
no more than 50 metres from the person walking them
under effective control by voice command or hand signal at all times
on-leash in all areas if any club or school sport is being played in the park or reserve
more than 20 metres away from a playground
wearing a current registration tag when they are outside your property
more than 20 metres away from a designated cycling path or track, unless a 1.2 metre or higher fence separates them from the track.
Dogs must not chase people or other animals. You must clean up your dog's droppings and put them in the bin.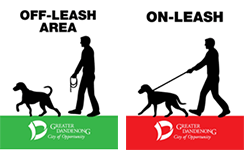 Council officers patrol parks and reserves to ensure residents and visitors comply with these rules.
Council officers issue on-the-spot penalties of up to $250 if you break the rules.
More serious penalties apply if your dog rushes, menaces or attack people or other animals.