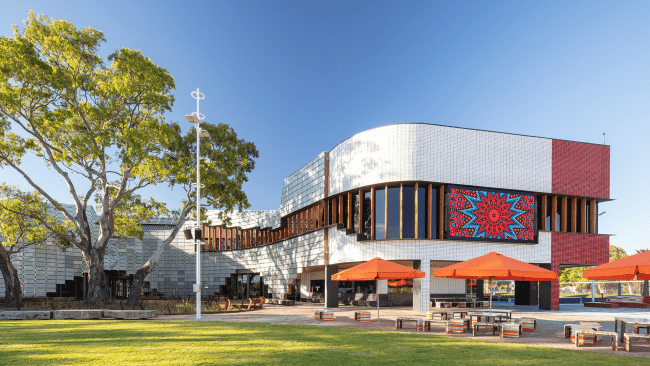 Venue facilities
Accessible Toilets
Air-conditioning and heating throughout
AV Equipment, including electronic screens, data-projectors, TV, speakers
Cafe
Carpet floor
Chairs and tables
Inviting surroundings (Gardens/Bushland)
Kitchen (Basic Facilities)
Meeting Rooms
On-site car parking
Opening Times
Monday - Friday:
9:00 am-6:00 pm
Saturday:
10:00 am-5:00 pm
Have your say
Have your say on the Springvale Community Hub Action Plan until Tuesday 12 July
Springvale Community Hub Café
The café is open Monday to Friday 9am - 4pm
Springvale Community Hub Outdoor Water Play area
The Water Play area at the Springvale Community Hub operates from 10am to 3pm, seven days a week. These times are subject to change seasonally.
Hiring at the Springvale Community Hub
The Springvale Community Hub has an array of meeting and community rooms for hire.
The hire rates are below. Other fees such as security bonds, public liability insurance and additional hourly rates may apply.
Please make sure you read the hire conditions before making a booking
Things to know before you start a booking request
A booking request does not confirm your booking until a Venue Bookings Officer has contacted you, payment is requested and required documents have been provided. Upon approval - payment is required at least 20 days in advance of the booking date
All casual booking requests for functions require a minimum 20 days notice
Have your dates and venue information ready before you start to save time
Have your required documentation ready (which could include driver's licence, not-for-profit documentation, public liability insurance, alcohol permit
Booking requests
For major event requests or if you have questions prior to booking contact Civic and Community Facilities on 8571 5340 or email bookings@cgd.vic.gov.au
Springvale Community Hub Committee
The Springvale Community Hub Committee was formed to provide strategic advice to the City of Greater Dandenong Council regarding strategic matters related to the Springvale Community Hub. These include matters related to community development and engagement, sense of place, promotion, development and evaluation of actions aimed at delivering on the vision of the hub.
Springvale Community Hub Hire Fees