There are a range of safety and legal considerations that come up during a construction process. You will find a range of topics from commonly asked questions to regulatory advice listed below.
Looking for more information on permits or requirements for other building projects not listed below?
For information visit the When is a Building Permit Required? webpage.
Alternatively, contact the Building Department on 8571 1000.
Asbestos
Asbestos is a highly toxic material that was commonly used in the building industry between 1945 and 1980. It is known to cause a number of lung diseases.
Council will investigate reports of incorrect removal or disposal of asbestos. Contact Council to report the incorrect removal of asbestos.

Further information on asbestos
Building Safety Concerns for structural damage
Building Surveyors
Building permits are issued by building surveyors. An application for a building permit may be made to the Municipal Building Surveyor or a private building surveyor
Municipal or private building surveyor
Every council in Victoria is required to have a person holding the office of municipal building surveyor.
Property owners have a choice between using council services (through the municipal building surveyor) or utilising the services of a private building surveyor to obtain a building permit and to arrange inspections of building work.
A private building surveyor is a fully independent person and is not associated with or controlled by council.

Choosing a building surveyor
For advice about choosing a building surveyor we recommend you check the Victorian Building Authority's website.

Surveyor's responsibilities
The building surveyor (private or municipal) who issues the building permit is generally responsible for ensuring that the building work complies with the requirements of the current Building Act and the Building Regulations 2018.
The Building Act contains provisions to promote that only one building surveyor, rather than a number, carries out the required functions in regards to issuing permits and carrying out inspection of building work for a project. That building surveyor may however engage qualified and registered building inspectors to carry out the building inspections during the course of construction.
A building surveyor who has been appointed to issue a building permit in respect of particular building work has power under the Building Act to enforce that building work to be brought into compliance with the Act and the Building Regulations through the issuing of various notices and orders.
A person who fails to comply with a valid building order may be prosecuted in the Magistrates Court for that failure. A private building surveyor in such circumstances is required to refer that matter to the Victorian Building Authority.
Dial Before You Dig
City of Greater Dandenong (CGD) is a proud member of Dial Before You Dig (DBYD) service.
DBYD is a free national referral service to assist in preventing damage and disruption to Australia's vast infrastructure networks that provide essential services such as electricity, gas, water, drainage etc. The City of Greater Dandenong's drainage assets are now included in the information provided by the DBYD service.
Before starting any building or excavation work it is important to obtain data from the DBYD service by logging onto their website www.1100.com.au.
The service provided by DBYD is free to everyone, including the general public, current or future residents, builders and contractors.
Safety is a fundamental aspect of any excavation project and DBYD should always be the first point of contact. It is the responsibility of individuals to confirm the presence of any underground service prior to excavation commencing.
For assistance with the use of the DBYD service, please telephone 1100 or visit the website www.1100.com.au.
Domestic Building Dispute Resolution Victoria
Domestic Building Dispute Resolution Victoria (DBDRV) is a free government service which helps resolve domestic building disputes. It provides a tailored service to resolve disputes between builders and home owners in a free, fair and fast manner.
Who is eligible for the DBDRV service?
Builders
Building owners
Architects or sub-contractors
Essential Safety Measures when construction is completed
When the construction of a building is complete, the building owner, and in some cases the building occupier, are responsible for its upkeep and maintenance, particularly its essential safety measures.

What is an essential safety measure?
Essential safety measures are the fire and life safety items that are installed or constructed in a building to ensure adequate levels of fire safety over the life of the building.

Essential safety measures include but are not limited to:
Air handling systems (used for smoke hazard management)
Exit doors
Early warning systems
Emergency lifts and lighting
Emergency lighting
Emergency power supply
Emergency warning systems
Exit signs
Fire control centres
Fire curtains and doors
Fire extinguishers
Fire detectors and alarm system
Fire hydrants
Fire isolated stairs
Fire rated materials
Fire windows
Mechanical ventilation
Fire isolated passageways and ramps
Path of travel to exits
Smoke alarms
Smoke control systems
Sprinkler systems
Requirements for Smoke Detectors
Smoke detectors are compulsory in all residential buildings.
All new residential dwellings must have interconnect smoke detectors and be connected to the mains power, any alterations and additions to existing dwellings may require upgrades to the smoke detection system.
If a garage or shed is attached to a dwelling and requires a building permit, confirmation of smoke alarms within the dwelling is required.

Alarms are to be installed within 1.5 metres of bedroom doors on the ceiling in the hallway or the room separating the bedrooms from the rest of the house.

In a two-storey house, a smoke alarm must be installed on the ceiling generally within 1.5 metre of the stairs on each floor.
Residential Zones and the Building Act
The three new residential zones in the Greater Dandenong Planning Scheme are as follows: the Residential Growth Zone (RGZ), the General Residential Zone (GRZ) and the Neighbourhood Residential Zone (NRZ).
These new zones vary some site controls on residential zoned land.
The following are affected in the specified parts (zones) of the municipality of the City of Greater Dandenong:
| | | |
| --- | --- | --- |
| Regulation | Matter | Part (Zone) |
| 74 | Minimum street setback | NRZ (unless exceptions in NRZ apply) |
| 75 | Building Height | NRZ (unless exceptions in NRZ apply) |
| 76 | Site Coverage | NRZ, GRZ |
| 77 | Permeability | NRZ, GRZ |
| 79 | Side and Rear Setback | NRZ, GRZ |
| 86 | Private open space | NRZ, GRZ |
| 89 | Front fence Height | NRZ, GRZ & RGZ |
Shared Accommodation
If you are proposing to convert an existing residential building (Class 1a) into a rooming house, boarding house, hostel or other shared accommodation (Class 1b or 3), there are a number of statutory obligations that you must meet prior to commencing.
A building permit is required to change a building from Class 1a to 1b or 3. A planning permit may also be required if not all requirements for the building are met.
For more information of the requirements around changing a dwelling into shared accommodation download the Fact Sheet for Shared Accommodation.
Fact Sheet for Shared Accommodation - 195KB

If you want to report a shared accommodation that is not meeting the regulations
Contact Council or report online. Council will investigate, and if required a notice or order will be issued accordingly.
6 Star Energy Standard
All new homes, home renovations, additions, alterations and relocations in Australia need to comply with the energy efficiency requirements of the BCA.
The 6 Star Standard applies to the thermal performance of a home, renovation or addition, as well as requiring the installation of a solar hot water system or a rainwater tank for toilet flushing.
As a flexible, performance-based standard, 6 Star allows homeowners, builders and designers enormous choice in meeting the requirements.
Further information can be found on the Victorian Building Authority website.
Subdivision of Buildings
Subdivision is the creation of separately disposable (sellable) units of a building or lots of land. This is done via a licensed land surveyor who draws up a plan of subdivision for Council approval and lodgement with the Titles Office.
Buildings may be subdivided upon completion or some time after completion.
Building Regulations contains a special provision that each part of a building being subdivided must individually conform with the building regulations. In the case of older buildings, this means that even though parts may have been occupied for some time, purchasers can expect that each part complies with today's regulations. Typically, this includes aspects such as fire safety, exit travel distances and facilities may need upgrading.
Should there be adequate cause for a building to not be upgraded to meet this requirement, the Municipal Building Surveyor or a private building surveyor carrying out building permit functions may issue an exemption for the requirement for conformity with today's regulations
Termites
The City of Greater Dandenong is not a declared termite area however we recommend that properties be regularly inspected for signs of termite infestation.
Termite protection is recommended when undertaking residential building works.
Further information can be found at the Victorian Building Authority website.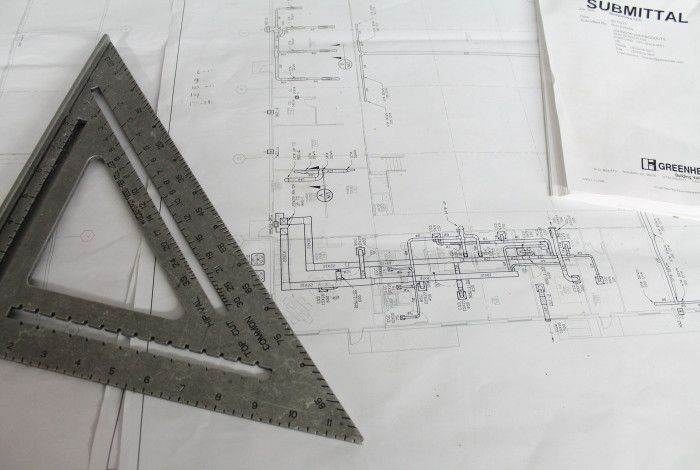 Owners of a property can get copies of your Building Plans and Documentation. Find out how to make a request.