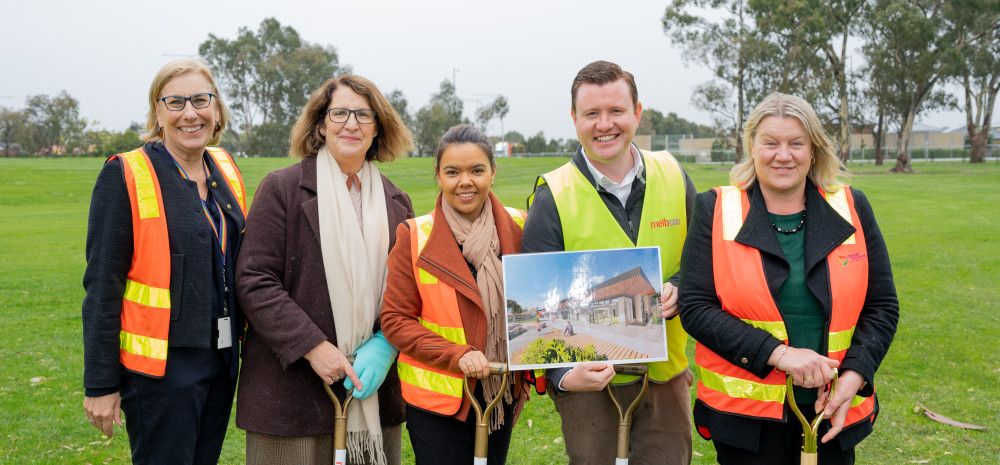 Construction of the new $22 million Keysborough South Community Hub has now begun.
Situated at the corner of Chapel and Villiers Roads, the Hub will include a range of services, programs and flexible meeting spaces.
This exciting community project has been developed in response to extensive community consultation undertaken between 2015-2021 and in response to local demand for new services in the area. 
Key features of the Hub are consistent with previous plans developed in consultation with the community.
Keysborough South has experienced significant housing development and population growth, from 5,516 residents in 2012 to 11,838 in 2019. This surge in population has led to a significant increase in the demand for community services, in particular early years' children's services. 
Mayor, Cr Eden Foster said today is a significant community celebration.
"To officially turn the sod today on the site of the new Keysborough South Community Hub is a huge achievement, particularly given this project is in response to extensive community consultation that has been undertaken over many years. 
"This Hub will be a true asset for our community, a landmark facility with welcoming and flexible spaces that will serve this community for many years to come. 
"I'd also like to thank the State Government for their $4 million Building Blocks Grants and Living Libraries Infrastructure Program funding to ensure we can make this much-needed Hub a reality," said the Mayor. 
Accessible for all ages and abilities, the Hub will have an innovative and environmentally sustainable design and will be built using low maintenance, natural and modern materials. The hub is aiming for a 5 Green Star Certified rating.  
This hub will be home to a kindergarten and long day care service, Maternal and Child Health Service, a library lounge and public study spaces, as well as multipurpose community spaces including a commercial kitchen. Flexible outdoor spaces will include a basketball ring, amphitheatre and a playground.
While construction will start immediately, in the coming months a draft strategic plan will also be available for public consultation. This plan will identify the vision and objectives for the Hub's future. 
"Our community has been patient as we have worked towards this outcome, and I can't wait to see it become a much-valued place for all," said the Mayor. 
Keysborough South Ward Councillor, Rhonda Garad said: "this is a great day for the residents of Greater Dandenong, and in particular for the Keysborough community. A community who has fought tirelessly for eight years to see this project realised". 
The guiding design principles of the Keysborough South Community Hub include:  
landmark / high quality facility 
welcoming spaces that invite community gathering 
multi-purpose spaces, that cater for diverse use / user groups 
facilities that enable concurrent use by more than a single group 
flexible spaces that are adaptable to future changing needs 
an innovative and environmentally sustainable design 
integrated facilities and service delivery 
universal access catering for all ages and for different abilities 
use of low maintenance, natural and modern materials.
Council awarded the building contract to Melbcon Pty Ltd, the project is due to be completed by December 2024. 
Visit the Keysborough Community Hub Project Page on the website.