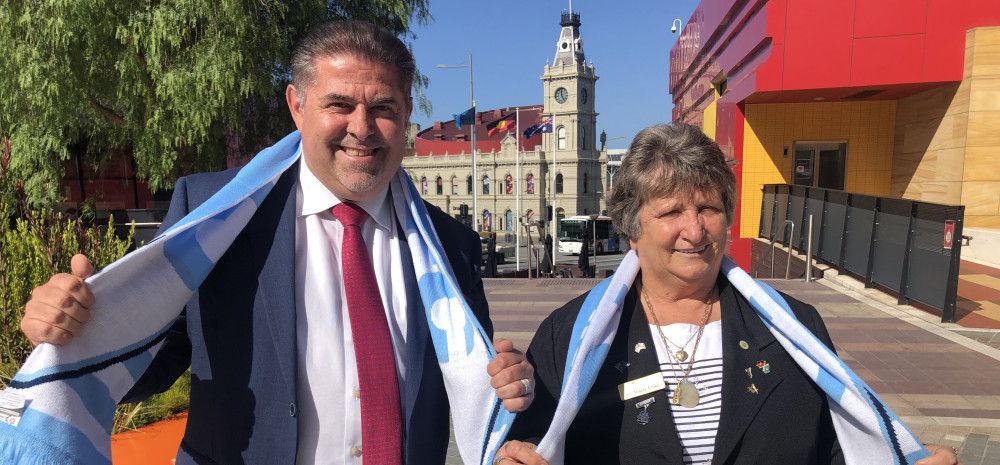 Melbourne City Football Club (FC) today announced its relocation to South East Melbourne after signing a Heads of Agreement with the City of Greater Dandenong and the City of Casey.
Today's announcement comes on the back of a four-year campaign by the Greater Dandenong, City of Casey and Cardinia Shire councils to bring an A-League and W-League club to South East Melbourne.
The City of Greater Dandenong Mayor, Councillor Angela Long, said Melbourne City FC would bring positive male and female role models into the community and provide talent pathways for the passionate football base in Greater Dandenong and the wider region.
"Today's announcement is an incredible reward for four years of hard work by many people across the City of Greater Dandenong, the City of Casey and Cardinia Shire," Councillor Long said.
"Our previous South East Melbourne A-League bid set out to foster grassroots football development with professional pathways, to connect with and grow our burgeoning business community, to market the region to national and international audiences and to provide a platform for community outreach programs.
"The proposed Dandenong Sports and Events Centre was an important part of that bid and today's announcement marks a step forward in bringing that plan to life.
"In Melbourne City FC we have found an established and well-loved partner with the same long-term and sustainable approach to development, a deep-rooted passion for community and a global network through its owners City Football Group.
"To be able to welcome Melbourne City's extraordinary W-League team within a matter of weeks makes today's announcement all the more exciting and will serve as a huge inspiration to young girls across Greater Dandenong and the region."
Melbourne City's history-making W-League team will open their upcoming season on January 2 at Dandenong City Soccer Club, playing four 2020-21 games at the venue including a Melbourne derby match against Melbourne Victory on January 28.
Tickets for the Saturday, January 2 W-League match against Western Sydney Wanderers will be on sale soon. Following the Melbourne derby on January 28, Melbourne City will also welcome Brisbane Roar to Dandenong on March 7 and Newcastle on March 11.
The new Etihad City Football Academy (CFA) will be housed at Casey Fields in Cranbourne East.
As part of its move, City in the Community, Melbourne City's charitable arm, will also be headquartered at the site, enabling more regular engagement with the in-need communities of Greater Dandenong and wider South East Melbourne region.
Councillor Jim Memeti said the support the Team 11 A-League and W-League bid generated would not have been possible without the Team 11 Board and the backing of local football, business and community networks. Cr Memeti urged South East Melbourne to get behind Melbourne City with equal enthusiasm.
"We must take this moment to thank everyone who supported the Team 11 bid – our board, our investors, local members of parliament, ambassadors, council staff and all of the grassroots football players and volunteers," Cr Memeti said.
"We are now looking forward to watching Melbourne City's men's, women's and junior teams represent us all with pride for many years to come."
Melbourne City Football Club competes in the major Australian domestic competitions, the A-League, the W-League and the Y-League. The Club, formerly known as Melbourne Heart FC, was established in 2009, inspired by a vision for a broad-based community team, celebrating cultural diversity and sporting passion through football.  
Becoming known as Melbourne City FC in 2014, the Club is wholly owned by City Football Group (CFG), as is English Premier League club Manchester City FC and Major League Soccer club New York City FC.
Melbourne City CEO Brad Rowse said "Football is the number one participation sport in South East Melbourne, with 115 grassroots clubs and 23,000 registered players across the wider region. This move creates a fresh street-to-stadium pathway for all the boys and girls who have been desperate for a professional team on their doorstep."