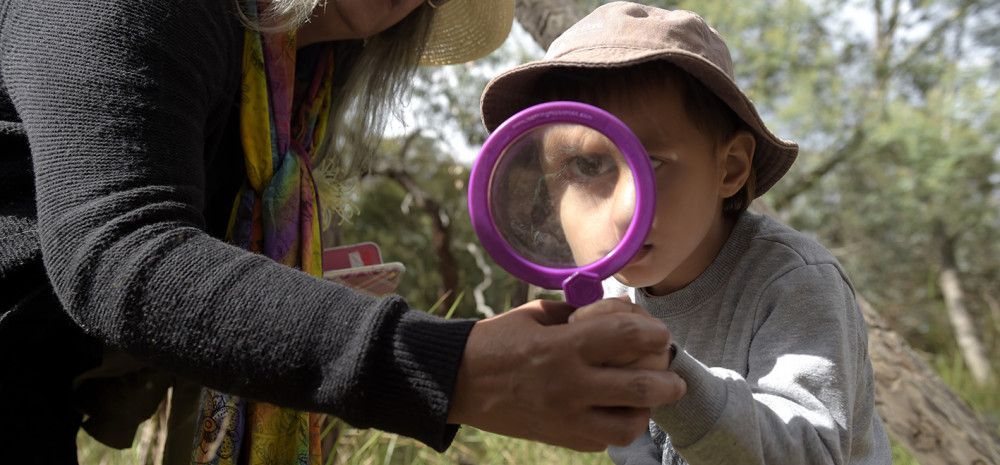 To celebrate Nature Play Week (6-16 April), local children and their caregivers joined Council's Nature Playgroup at Alex Wilkie Nature Reserve in Springvale South.
The session was child-led, and facilitated by a local ranger, so children's' interests in the environment around them was fostered and their own sense of imagination and adventure supported.
The Nature Playgroup started with a nature walk, giving everyone a chance to enjoy the local wildlife. The walk was followed by a visit to the 'Sense Trail' where the children were encouraged to explore the sights, sounds, smells and textures of the Australian bush.
Mayor, Cr Jim Memeti said children benefit greatly from exploring their natural surrounds.
"Our Council-run Nature Playgroup is a great way to encourage children and their caregivers to engage in nature.
"Greater Dandenong is a child-friendly city and Council is committed to creating opportunities for families to learn about all the different ways they can get involved with outdoor play, beyond the playground and out in the city's lush reserves," the Mayor said.
Nature Play Week promotes the active play in nature and encourages children and caregivers to see the natural environment as a place to enjoy, play, imagine, relax and explore.
Find out more about Nature Play Week here.