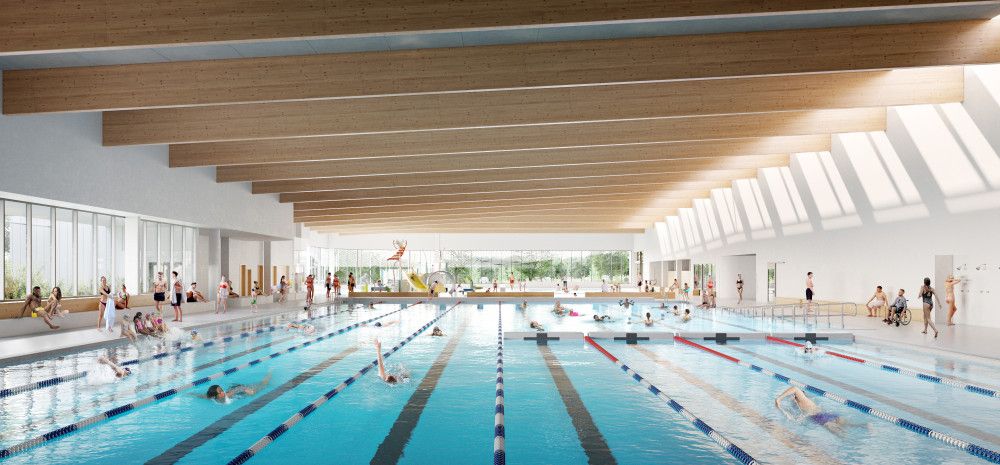 Have your say on the draft design of the new Dandenong Wellbeing Centre – a new 'oasis' for south east Melbourne.
The new aquatic centre will be located at JC Mills Reserve, Cleeland Street, Dandenong and will replace the existing Dandenong Oasis, which is now over 40 years old.
The centre's design reflects the community's need to make the multi-purpose centre welcoming and accessible to people of all ages, abilities and cultural backgrounds.
Mayor Jim Memeti said the Dandenong Wellbeing Centre has been specifically designed to enhance the health and wellbeing of our culturally diverse community.
"This integrated facility will minimise barriers and maximise opportunities for residents to be active, socially connect and enjoy numerous health and wellness experiences under one roof.
"The unique world-class aquatic centre will become a popular destination within a regional health and education precinct and will be complemented by expansive outdoor spaces at JC Mills Reserve," said the Mayor.
The major infrastructure project is the key recommendation of the Greater Dandenong Aquatic Strategy (2019) and will complement the Noble Park Aquatic Centre (NPAC) to deliver exceptional health, social, economic and environmental benefits.
Extensive planning, two rounds of consultation and over 1,500 community surveys identified the need for the new centre to focus on health, passive activity, education, fitness and wellness, with the aim to get more people, more active, more often. The results of a further round of consultation undertaken in July have also helped to inform the draft design.
The new two-story centre will be built with innovative sustainable measures and include two separate pool halls to cater for both active and passive aquatic activities, in addition to a range of health and wellbeing, fitness and community facilities.
The main pool hall will include a 50m, eight-lane pool, learn to swim pool and leisure pool with water play features.
A dedicated warm water pool hall will be provided with two warm water pools, plus a large spa, sauna and steam room.
A large gym and four group fitness program rooms will be included, in addition to an allied health facility, community meeting rooms, café, creche, foyer, amenities and public plaza.
An integrated sports pavilion will also be constructed to cater for the neighbouring synthetic pitch and to support the continued growth of active sport at the precinct.
Council appointed a design team led by CO-OP Studio in April. Construction is proposed to commence in early 2023 and be completed by early 2025, subject to funding. Dandenong Oasis will continue to operate during the construction of the new centre.

Residents are invited to view the draft plans and provide feedback by Wednesday 15 December at: greaterdandenong.vic.gov.au/new-dandenong-oasis-consultation.