Knows the power of stories.
Loves the colour yellow.
Is prepared to tackle tough issues.
Speaks out against racism.
Yellow looks like sunshine. It tastes of freedom, feels warm, sounds friendly and speaks of fun. Comedian, actor and community worker Diana Nguyen radiates yellow. A golden glow follows wherever she goes. Half her wardrobe is yellow and she even drives a yellow VW Beetle.
However, the Vietnamese-Australian vividly recalls the moment she felt too yellow - her childhood innocence shattered by ignorance and racism.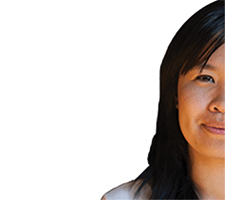 "When I was going through my teenage years, Pauline Hanson came out to Dandenong and I specifically remember eggs being thrown at her and her saying 'yellow Asian people'," Diana, now 27, said. "For the first time I realised I was a 'yellow' person. I remember being so scared that my mum would be sent back (to Vietnam)."

Back then, Diana's defence against racist attitudes was to appear as Australian as she could. She adopted Hawthorn as her footy team and followed cricket with a passion. But as Diana says, 'These were often grey days, feeling like no one understands you, and your community is represented by colour and not the stories you have to share.' It is only since Diana finished her bachelor degree, became a community development worker and took the time to learn her mother's story that she has felt more comfortable in her own skin. "In the past three or four years I've got to know my mother's story. I realised the sacrifices she made for me and my sisters. I wish I had seen through my stubbornness and embraced my mother's language."
Diana's face brightens when asked whether Australians are racist. She shares the view of fellow comedian Matt Okine. "Matt said, 'No, they're not. I'm Australian and I'm not racist'. I thought that was beautiful. I believe only a small minority of Australians are racist and it's important that we continue to share stories and talk about these issues."
Diana uses comedy and her professional acting skills to encourage discussion about controversial and sometimes difficult issues such as racial stereotyping and the adversities refugees face. In her show Phi and Me Diana re-tells stories from her mother's refugee experience and her own experience growing up Vietnamese-Australian. Spin-offs of the successful show have been a part of the Melbourne International Comedy Festival for the past three years.
More recently, Diana used her mother's story at a forum where audience members spoke about "illegal" immigrants, borders being invaded and jobs being taken.
"It was just so frustrating, but so good to hear all that instead of being silent," Diana said. "I was relieved that it was out in the air and we were having a discussion about it. I think it's important. If we sit silently, or are quietly being discriminate, then I think that is worse.
"Migrant stories are an important part of Australian history now and if we don't share them then we are never going to appreciate these stories. Through storytelling we become more human, instead of being labelled. That's why I love storytelling. If everyone could have a conversation with their next-door neighbour, then you'd break down all those walls that have been created."
Diana said she now feels grounded being herself and will continue to share stories. The future is bright.
Words by Natalie Filmer
Pictures by Dulce Amor Temporal
Download Racism. Get Up. Speak Out. postcard featuring Diana - 1MB