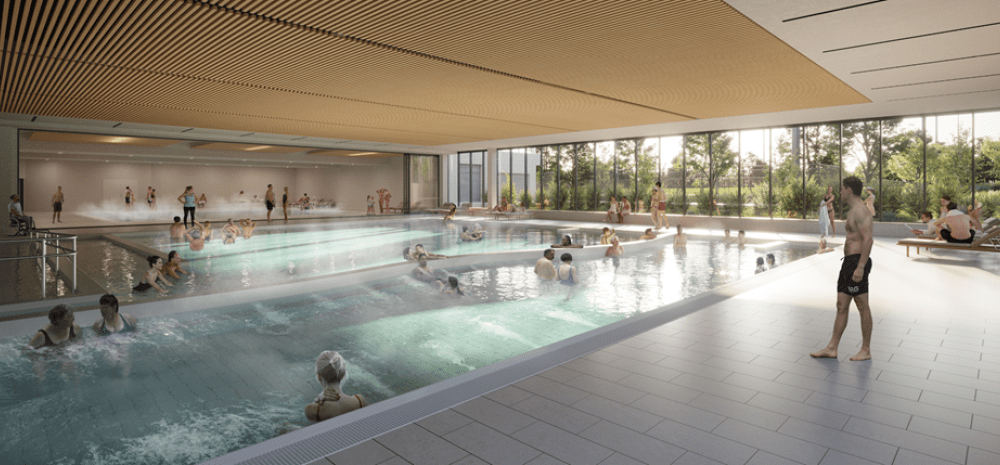 Council is calling for the State Government to provide funding support to help deliver the Dandenong Wellbeing Centre (new Dandenong Oasis), as a high priority infrastructure project for the region and the state.
Touted as a 'preventative health hospital', it's estimated that the centre will generate $8.9 million in savings to the health system each year.
The detailed design phase of the project has concluded, with the proposed centre promising to set a new benchmark for aquatic centres, with a targeted focus on health and wellbeing.
A detailed business case was submitted to the State Government in 2021 detailing a compelling investment case for the project. In addition to the stated health benefits, the centre is projected to generate an 84 per cent increase in participation levels, create over 150 construction jobs, 51 ongoing jobs and add $3.3 million to the economy each year.
Mayor, Cr Jim Memeti is appealing to the State Government to invest in the Dandenong Wellbeing Centre (DWC) to achieve the preventative health outcomes the centre will deliver.
"The health and wellbeing of the community is a shared responsibility between all levels of government.
"Greater Dandenong is Victoria's most multicultural community and is also one of the most disadvantaged municipalities in the state, with high levels of inactivity, health challenges and disengagement.
"The DWC has been designed to address this high level of need, with a range of unique features and attributes to cater for people of all ages, abilities and cultures.
"It is now time for us to all work together to deliver this wonderful new facility, which will make a significant impact on the health and wellbeing of the community and visitors from across the south east region.
"Council is incredibly grateful to receive a funding commitment of $20 million from the Labor Federal Government for this project (and the nearby Noble Park Aquatic Centre) and is calling upon the State Government for a matching commitment of $20 million, which collectively represents under 50 per cent of the total project cost.
"Escalating construction costs is making the delivery of major projects increasingly challenging for local government and increased support is required across all levels of government in order to deliver major capital projects," said Cr Memeti.
The DWC will include allied health consulting suites, meeting and program rooms and two warm water pools for hydrotherapy, rehabilitation and gentle exercise. Also included are traditional aquatic and leisure facilities, including a 50m pool, learn to swim pool, leisure pool with water play, spa, sauna, gym, group fitness rooms, café and much more.
The DWC has overwhelming community support and has been designed in collaboration with the community, with over 2400 engagements over four separate rounds of consultation.
Read more about the Dandenong Wellbeing Centre.