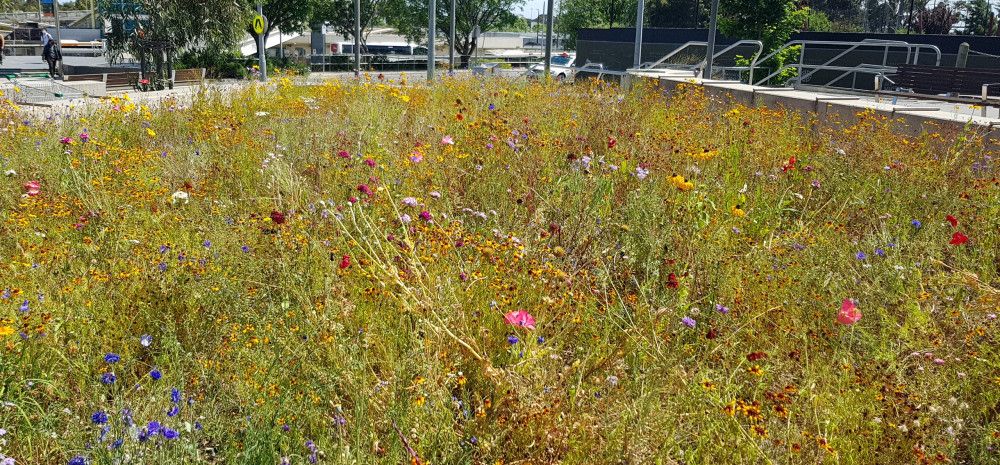 A new wildflower meadow has been created in Pultney Street, Dandenong following the overwhelming popularity of this concept led by Greater Dandenong City Council's Parks team.
Whimsical wildflower meadows are a perfect example of how smaller initiatives can humanise cities and create unique, loved places.
The concept was first trailed in the lawn area of Settlers Square near Dandenong Train Station, adding an unexpected experience for passers-by.
Cr Angela Long, Mayor of the City of Greater Dandenong, encouraged members of the community to visit the area to see the flowers in bloom.
"With COVID-19 restrictions easing, the wildflower meadow is perfectly timed to welcome shoppers, visitors and traders back to Lonsdale Street. The seeds at Settlers Square are currently in bloom and looking fantastic. We expect the Pultney Street meadow to begin to bloom in early December."
Wildflower meadows requires less maintenance and more visual interest than regular lawn grass. They are bird and insect attracting and increase the diversity of flora in the urban area.
"With concerns about climate change, urban areas heating up and how to improve plant diversity in built up areas, the wildflower meadow connects us with the joy nature brings. They help balance the amount of hard surface, granite and road asphalt with greenery and naturally cool areas," Mayor Long said.
Pultney Street meets Lonsdale Street in Dandenong near MKS Spices and The Cheesecake Shop. The area is high profile, offers a relaxed resting area and is well protected from cars and traffic.
Greater Dandenong City Council is developing a Biodiversity Action Plan and we want to hear from the community to help form the plan.