Finding Biodiversity in Greater Dandenong
Biodiversity protects and enhances life. It includes all forms of life, the number and variety of plants, animals, fungi and microorganisms as well as their habitats and ecosystems.
Biodiversity enhances resilience and in turn ensures our environments can adapt and thrive despite growing pressures like climate change.
The City of Greater Dandenong is committed to working with the community to protect biodiversity and build a resilient future for our City. One way that you can help is by getting outdoors and documenting biodiversity within Greater Dandenong.
Participating is easy, all you need is your smart phone or a camera. Visit the iNaturalist website or app and join the Finding Biodiversity in Greater Dandenong project by simply heading outdoors to snap photos of living things in Greater Dandenong and then upload to iNaturalist. You'll be contributing to community science and showing the world the amazing biodiversity Greater Dandenong has to offer.
How to participate
Step 1 - Download the free iNaturalist app and register.
Step 2 - Join the Finding Biodiversity in Greater Dandenong project.
Step 3 - Start recording your observations.
The iNaturalist app is easy to use and there is a community on iNaturalist that can help you identify your observations. It is a great way to learn about local plants and animals and get involved in local conservation.
Watch this great iNaturalist video and get started.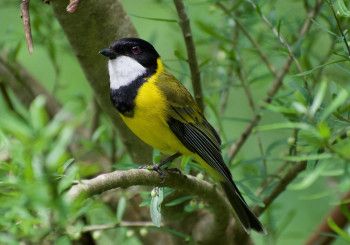 Wildlife of the month
The Australian golden whistler (Pachycephala pectoralis) or golden whistler, is a species of bird found in forest, woodland, mallee, mangrove and scrub in Australia.
The male has a bright yellow underside and nape, olive-green back and wings, a black head and chest-band and a white throat. Females are overall dull brownish-grey, though some have yellowish undertail coverts. Both sexes have a black bill, dark legs and red-brown eyes. Australian golden whistlers have a strong, musical voice and can be found in parks, reserves and gardens in Greater Dandenong.
If you are lucky enough to spot a golden whistler, snap a photograph and upload to iNaturalist.
(Image credit - lrathbone, iNaturalist)
Biodiversity Blitz 2023
Each year, the City of Greater Dandenong hosts a Biodiversity Blitz during the month of September. Keep an eye out for the 2023 Biodiversity Blitz for your chance to win a prize. Find out more about upcoming events by visiting the Environmental Events webpage.
Biodiversity Blitz User Guides
Parent or Carer's Guide to Biodiversity Blitz 2022 - 2.1MB
Teacher's Guide to Biodiversity Blitz 2022 - 2.1MB
Tread lightly
Please respect our plants and wildlife when taking photos. Spring is nesting season for many birds and flowering time for many orchids and herbs so try not to damage or disturb our plants or animals. If you see young birds on the ground, please leave them unless they are obviously injured. They are fledging the nest and learning to fly, and their parents will be close by.
For more information visit RSPCA Victoria.
If you come across injured wildlife, please contact Wildlife Victoria on 8400 7300.