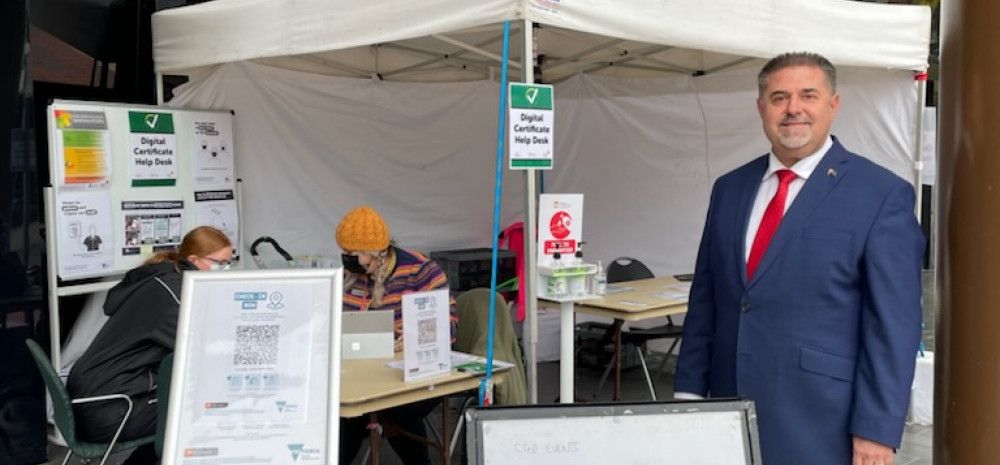 The City of Greater Dandenong has helped over 1,000 people access their digital COVID-19 vaccination certificate and upload it to the Services Victoria App since 8 November.

The outdoor help desks at Harmony Square, Dandenong and Springvale Community Hub will continue to operate in partnership with local service providers daily from 9am – 6pm until Friday 3 December.

Residents will need to bring along their personal phone/device (iPhone or Android), a Medicare card or Individual Healthcare Identifier (IHI), and personal identification such as a passport, driver license and/or visa.

Mayor Cr Jim Memeti said he is pleased to see so many people checking in via the Victoria Services App to keep COVID safe.

"We are pleased to extend this essential free service as it has been so popular with our community," the Mayor said.

For more information visit greaterdandenong.vic.gov.au/events/digital-certificate-help-desk.

The Library Tech Assist team can also provide one-on-one support over the phone. Simply call the library between 9am-6pm, Monday to Friday on 1300 630 920 to arrange a tailored session.
For more information about current library services please visit greaterdandenong.vic.gov.au/covid19-libraries.