Located in Dandenong's Harmony Square, two purpose-built gallery display windows offer artists an opportunity to showcase contemporary interdisciplinary projects. The space is suitable for 2D and 3D installations and contributes to the arts and cultural experience of central Dandenong. 
The exhibition windows animate the main entrance to the Dandenong Library and Civic Centre building, as well as Harmony Square, creating additional light, colour and contemplation for users of these spaces. The exhibition windows provide a unique platform for artists to contribute to the creativity and dialogue of the city. 
Exhibitions are changed regularly throughout the year and can be viewed every day and night for free.
Interested in exhibiting your work in Harmony Square Exhibition Windows? The City of Greater Dandenong has a range of arts opportunities throughout 2023-24. Please register your details below.
Visit the Arts Opportunities webpage for more information and to register.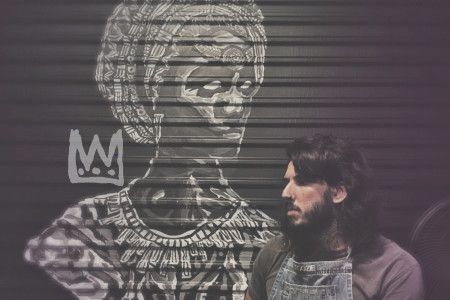 Through My Eyes
Artist: Shane A. Vandort
11 August – 20 October 2023
S.A. Vandort was raised in Greater Dandenong by first generation migrants from Sri Lanka. He is a multidisciplinary self-taught artist working in portraiture, illustration, free verse poetry and resin. His work has surrealist undertones and is influenced by his interest in tattoo design. Shane's first solo exhibition, Through My Eyes is filled with surrealist portraits created on old vintage books. The artworks represent people who have influenced him and those existing only in his imagination.
Having always struggled with reading growing up Shane had developed an aversion to books. As an artist, he has found that by drawing on the pages of text, a new appreciation of, and connection with books. Through My Eyes is a collection of works which explores the artist's personal challenges through his love of linear design. He hopes that through his work, we begin to see beyond the appearance of a person. To be kind, always.
For more information visit: Instagram: @sa.vandortart or Facebook/sa-vandort-art.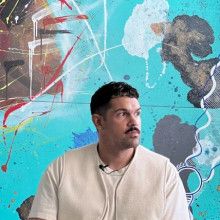 Cultural Connections
Artist: Kobi Sainty
26 May – 8 August 2023
"Bunurong connections and how I see the world as a modern-day Indigenous artist creating contemporary artwork with traditional elements".
Kobi Sainty, a Bunurong and Palawa contemporary artist, brings his original Indigenous mark making to Harmony Square. Kobi's artwork is deeply embedded with his connection to Country, Culture and water. His exploration with contemporary materials and traditional iconography produces unique imagery of storytelling, Culture and identity.
For more information visit website at www.kobisaintyart.com.au or Instagram at @kobisaintyar.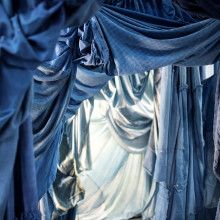 Material Metaphors
Artist: Rachael Wellisch
8 March – 16 May 2023
Material Metaphors is part of a photo series of household textile waste such as discarded clothing and tablecloths, hand dyed with natural indigo, and stitched together into draped layers. The images are then printed onto textiles made from recycled plastic. The collection becomes a reimagined landscape - draws on the painting term 'atmospheric perspective' - through materials diverted from landfill.
Rachael Wellisch is a Meanjin/Brisbane based artist making sculptures, installations, paper pulp paintings and wall-based work, using salvaged textiles and natural indigo dye. Graduating with a Bachelor of Fine Art (Honours) in 2016, she has exhibited broadly, both nationally and internationally, and has been selected for, and awarded in both national and international art prizes and grants.
For more information visit website at www.rachaelwellisch.com or Instagram at @rachael_wellisch.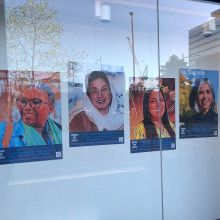 Know My Story
Migrant Women Shaping the Cultural Landscape of Greater Dandenong
10 January - 3 March 2023
Know My Story is a multicultural, social history project conceived by Wellsprings for Women. It highlights the significant contribution of high achieving women from ten migrant or refugee backgrounds who, without the power of privilege, have left their mark in unique ways.
For more information visit website Wellsprings For Women.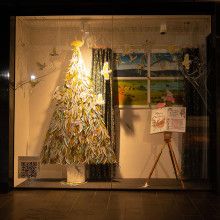 Christmas Display
December 2022 - January 2023
The Harmony Square windows displayed a traditional nativity scene throughout December 2022/January 2023 for all residents and visitors to view.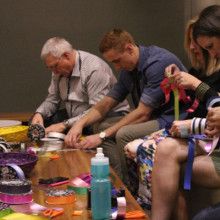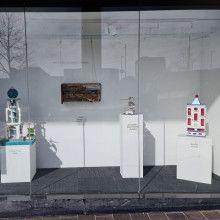 Harmony Square Sculpture Display
Artist: Martin Heatherich
August – September 2022
Martin Heatherich was born in the Netherlands in 1934, where he started to paint as a teenager. After migrating to Australia in 1955 with his parents, Martin continued to represent the joys and challenges of life around him.
This collection of Martin's sculptures encompasses an incredible array of media and themes, all with Martin's trademark thoughtfulness. Many of his works are fun and playful; however, a reflection of Martin's concern and anguish over the political and social climate of the time is also evident. His work is a reinvention of everyday ordinary objects into statements for the discerning viewer. Each sculpture is a reminder that art is everywhere and in anything. From the nature surrounding us to the packaging of our everyday lives.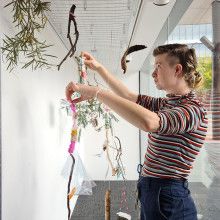 Plant, Smash and Scrap Weave
Artist: Phoebe Thompson
May – June 2022
Plant Smash and Scrap Weave considers the artist's place in the landscape and surrounding: a wild yet civilised being in Country that is both natural and built. This collection conveys the ancient actions written into our bodies; making, collecting and nesting. Plant Smash and Scrap Weave gives new life and meaning to used and discarded living matter…rubbish.
Phoebe Thompson is a curator, artist, and poet living on unceded Bunurong / Boon Wurrung lands. Their multi-disciplinary practice is concerned with sustainability, personal identity, and the built and existing environment, whilst placing value on process, sentimentality, and connection.
Phoebe said "I look around at the endless junk we have accumulated, the things we have created and surrounded ourselves with, the mess we've made of the planet in a very short time – it's absurd. Ridiculous. But deadly serious. You have to laugh – or you'll cry."
Visit Phoebe's Instagram on @pho_tho_.