Located at the Dandenong Civic Centre, seven purpose-built gallery light boxes offer artists an opportunity to produce contemporary interdisciplinary projects including 2D and 3D installations that contribute to a visitor's arts and cultural experience of central Dandenong.
The light boxes animate newly developed pedestrian routes creating additional light, colour and contemplation. They also provide a unique platform for artists to contribute to the creativity and dialogue of the city.
The exhibition on display can be viewed every day and night on the corner of the corner of Thomas Street and Garnar Lane, Dandenong.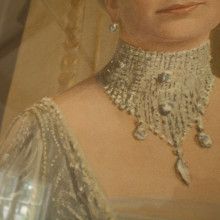 Shine
On display from March 2022
Kitty Owens is a visual artist, writer and museum curator. Owens' practice is focussed on history and museology.
In this series, Owens work depicts reflections and the play of light of the museum display at Heritage Hill Museum and Historic Gardens.
Typically, reflections are challenging when photographing museum displays, but this series delights in the play of light and the ghostly layered images that can appear. Connecting the historic item/s with a fleeting moment in the present, including the presence of a viewer or the movement of the sun.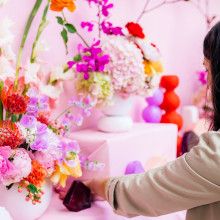 Flora
Haley Cassar, Molly Mckenna, Connie Harris, Tian Du
November 2020 - July 2021
Four students from Holmesglen College floristry course, Haley Cassar, Molly Mckenna, Connie Harris, and Tian Du, filled the Garnar Lane display boxes with contemporary floral displays. The work has been professionally photographed and will be reprinted and installed in the display boxes once the original displays have died. This display is an optical illusion for passers by and part of the Flora program.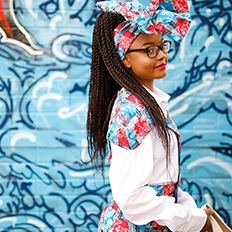 Women of Greater Dandenong Photography Prize
March - July 2020
Located at the Dandenong Civic Centre, the Garnar Lane Display Boxes will showcase the winning works from the Women of Greater Dandenong Photography Prize.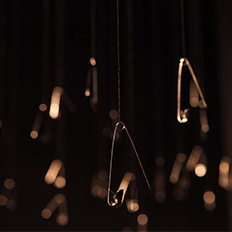 Like a shadow; I am and I am not
Rubaba Haider
Rubaba Haider is an interdisciplinary artist living in Melbourne.
As a Hazara woman, Haider has witnessed how fragile the ties that bind communities, relationships and bodies together can be, and expresses this vulnerability through intricate explorations of cloth and thread. The intricate use of threads, fabrics and needles in her practice symbolises intimate wounds and tears and how a mere thread binds everything.
Like a shadow; I am and I am not has been commissioned for the Zephyr exhibition in 2019.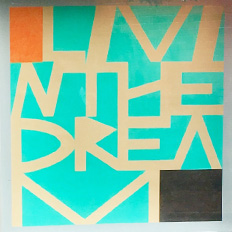 Australian Vernacular
Jon Campbell
Jon Campbell is known for his engagement with Australian youth culture. For the last 20 years, Jon's work has looked at the visual potential of words using vernacular language and popular culture.
In recent paintings, Jon uses abstraction and graphic design to confuse the original function of the words and phrases and elevate them to a pictorial object. The negative spaces around the letters become positive.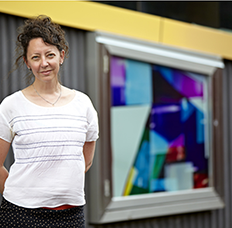 Uncommon Ground (Traversing Edges and Corners)
Danica Chappell
This body of work applies repeated form and layered action to photography. Constructed without a camera, the artworks were crafted from a darkroom performance that traverses the edges and corners of space and materials. Each window reveals a visual jolt of colour and material.
The photographic processes are relinquished from a predetermined engagement to the photograph and echo methodologies of painting. The use of material vibrates from the frame that attempts to contain them and entice a wandering eye to untangle the ambiguous play.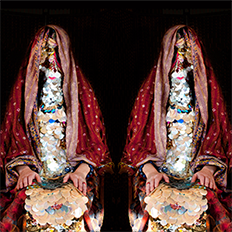 Sovereign Unto Oneself
Eddy Carroll
These traditional soft sculptures are composed of symbols from traditional wedding and love rituals from around the world.
Drawing inspiration from materials commonly found in Dandenong's cultural precinct Little India, items such as veils, rings and wedding dress trains are transformed into abstract shapes made from hand-sequined and handmade embroidered fabric.
Nocturnal Pilgrimage
Kathy Holowko
The work explores the artist's fascination with the nocturnal world of native fruit bats. It aims to intrigue and demystify the animals of the night.
Each light box offers a different insight using various mediums including sculpted bats, photographic prints and drawings.